Kyrie Irving shoes are one of the most wanted basketball shoes on this planet. It is not easy to find Kyrie Irving shoes for sales due to the limited production of Kyrie Irving shoes. However, you can customize your own Kyrie Irving shoes online if you are a huge fan of him. With a computer, laptop, tablet, iPhone, iPad, or any other Android devices, you can connect to the internet and make a pair of your own Kyrie Irving shoes easily. The customization is very straight-forward and without any hidden costs. For those who used to customize your own basketball shoes with NIKEiD will find it interesting to design a Kyrie Irving shoes. Let's get the work started.
Step 1: Enter to NIKEiD official website at Nike.com/us/en_us/c/nikeid. Under NIKEiD PRODUCTS, select Shoes for Category and select Basketball for Sport. You will see a few very popular Nike basketball shoes in this page, for example, Nike Zoom HyperRev, Nike Hyperdunk, LeBron James Shoes, Jordan Shoes, Kobe Bryant Shoes, KDS Shoes and many more. Under Athlete, select Kyrie Irving to filter away Kevin Durant shoes and those unwanted shoes.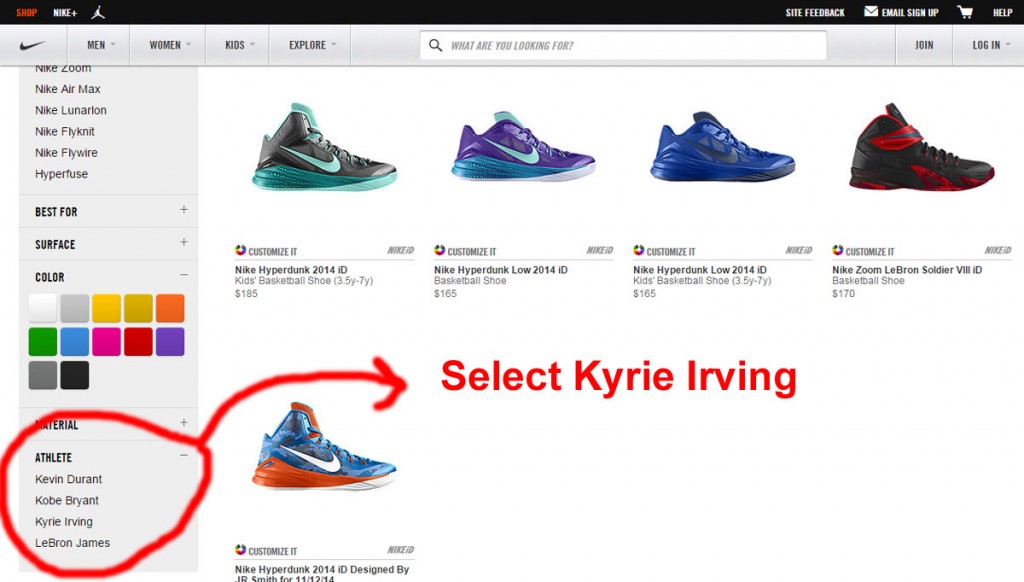 Step 2: All the customizable Kyrie Irving shoes will be appeared at this page. The Kyrie 1 iD is currently the most famous customizable Kyrie Irving shoes in NIKEiD. Imagine which one you want to promenade along the waterfront during your vacation. Click on it to begin the design.
Step 3: Now you can make this shoe as your personal one by adding speckles and choosing your outsole. Click on START CUSTOMIZING to begin. The sample shoe in the middle of the page is where you begin. Click on each part of the shoe and select the color or material from the color bar located on your left.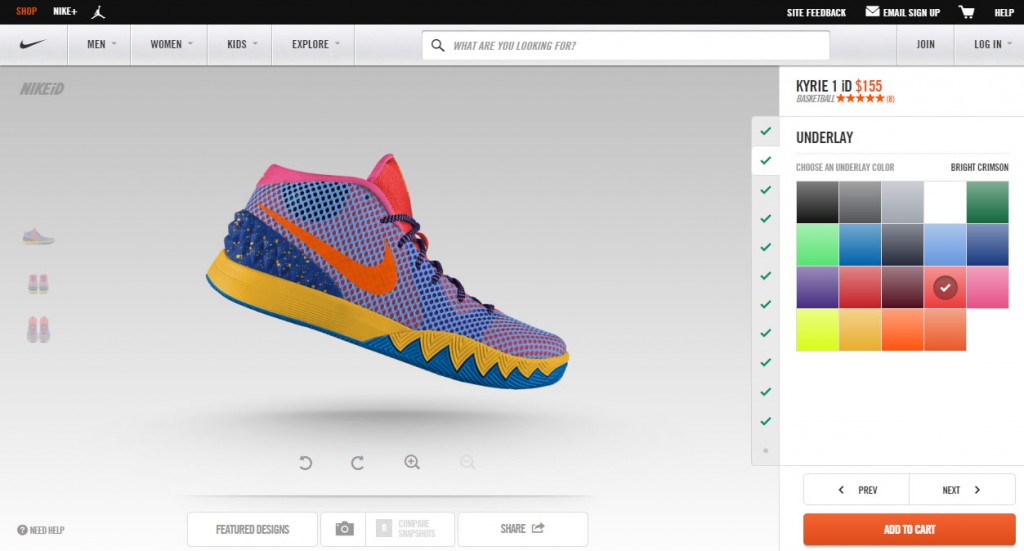 Step 4: Continue to customize your own Kyrie Irving shoes by making every part of the shoes truly yours. Mesh overlay, underlay, heel accent, lace, lining, Swoosh, midsole, and outsole are a few important parts you need to customize. Choose any kind of color combination you preferred, black and white, blue and yellow, or pink and red.
Step 5: Add a short iD and or long iD to the shoe if you want to make it unqiue. Use the 360 degree viewer to view your Nike Kyrie Irving shoes from front to back, top to bottom and make sure you are satisfied with your design. Select your preferred shoe size and click on Add To Cart button if you would like to buy it.
Once the payment is made, Nike factory will build the shoe according to what you design. The delivery time usually takes 4 weeks or less than that. Once you have placed your order, all you have to do is sit back, relax, and wait for the shoes. As NIKEiD offers no-cost returns for Nike members, you can return the shoe if it is not what you expected. On the other hand, you can use the Contact Us function to send us the shoe you design. We will publish it here just like Custom Jordan Shoes.