No one is able to help if you can't find a pair of Puma shoes with the taste that suit your tongue. However, you can now design your own Puma shoes using an online application provided by Puma's official website. Each part of the shoe can be customized. Puma factory will then craft the shoe according to your design and deliver it to your doorstep with a little cost. Now here are some delicious steps to customize your own Puma shoes. It will be super fun if you have never done this before.
First Step: Go to factory.Puma.com or hit the direct link here. On the top banner, click on the "CUSTOMIZE" button. You will be redirected to a page where you can select your preferred shoe style. You may select any styles from Speed Cat, First Round, or Basket. Click on the green button "DESIGN IT" once you have selected the shoe styles you love. The price will be shown on top right.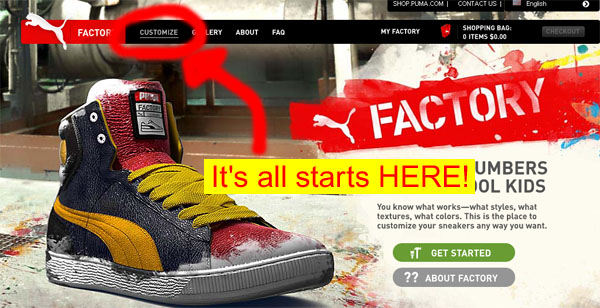 Second Step: You will be required to select a starting point. Select a starting point among All Nighter, Amsterdam, Rollerderby, Blanca, EastVillage, or Milkshake 'N' Fries if your shoe style is First Round.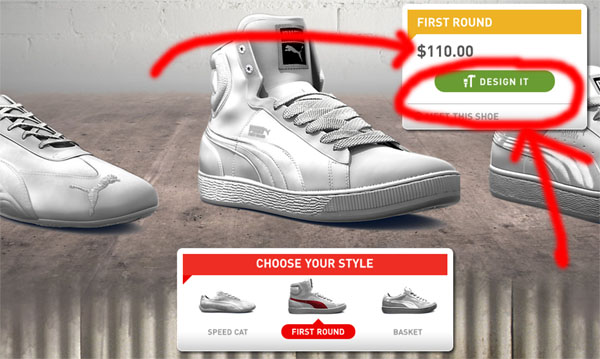 Third Step: Now you will see a sample shoe appear right in front of you. As you can see there is a grey bar appear under the shoe separated by three different sections which are accents, outsole, and uppers. There are 16 smaller steps to go through in order to customize a pair of unique Puma shoes.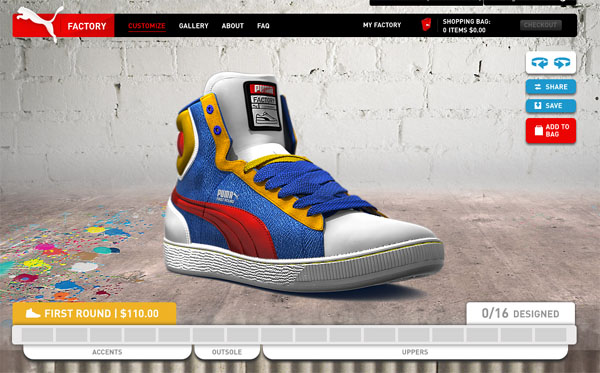 Fourth Step: Start customizing your own Puma shoes by selecting your preferred color for metal eyelets, thin lace, fat lace, tongue label, Puma logos, outsole, outsole stitching, vamp, tongue, eyestay, quarter, formstrip, collar, collar underlay, collar binding, heel cap, and linings. You may also select the material you wish to use for each part of the shoes. Please note that the online program will take some time to load the changes every time you click on a color or material.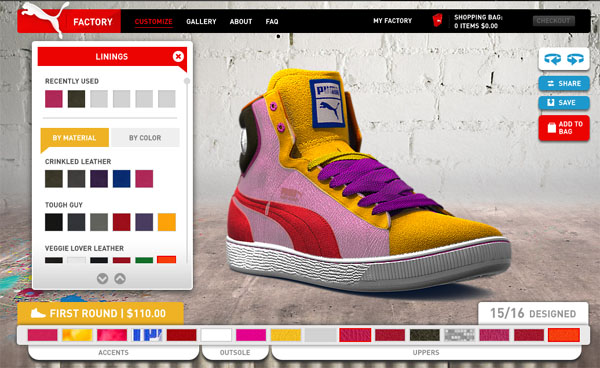 Fifth Step: Make use of the 360 degree viewer on top right to view the shoe every time you select a color for one part. Do view it again and again to make sure you have selected the best color for each part. Click on the "Add To Bag" red button if you want to buy this shoe. The price will be clearly stated in a pop up message box. That is also where you will need to select the sizing system, your foot size, and the quantity of the shoe you want. Continue to "Add To Bag" and click Checkout.
Sixth Step: The last step is to register a PUMA Factory account if you don't have one. You will be required to fill in your billing address and shipping address. Make sure both of them are correct otherwise your beautiful Puma shoes will go to someone else. Some of the shoe brands like Converse and Vans accept Paypal as one of the payment method but PUMA do not offer their customers to use Paypal. However, you can still continue to purchase your shoe with credit card easily. Once the payment is made, you will be wearing your shoe and walk on the street after 2-3 weeks.