Perhaps you are using your brain in a very active yet creative way if you are surfing online finding how to customize your own Derrick Rose shoes. Designing a pair of unique Derrick Rose shoes is a very inventive and artistic process. It is true that there are many works have to be done but it doesn't really require any extra computer knowledge to do it. You can make a pair of Derrick Rose shoes with mi adidas anytime at anywhere.
Mi adidas is an online custom program created by Adidas to allow Adidas fans as well as fans of Derrick Rose to design their own shoes. Potential buyers are able to place an order with mi Adidas and the shoe will be custom made by Adidas. Of course, it doesn't take only days but weeks for Adidas to make the shoe and send it to your doorstep. There are no suitable words to describe the feeling of having a pair of your own Derrick Rose shoes. For those who are hunting for your own Derrick Rose shoes, you may follow the step by step guide here to make a distinctive one now.
Step 1: The first few steps are very similar to design your own adidas shoes. First, open a web browser and access to adidas official website at adidas.com. Do the same if you are doing this on a smartphone or tablet. Scroll down to the bottom of the page and select your country.
Step 2: Mouse over to the "customize" button on top of the page and select Basketball. You should be able to see a list of Adidas custom basketball shoes in this page such as the mi D Lillard custom shoes, mi X-Hale custom shoes and of course mi D Rose 773 III custom shoes.
Step 3: Under COLLECTION, check on d rose signature collection to filter away all unwanted shoes and left only Derrick Rose collection. Select the shoe you want to customize and click on it to begin your journey. In this tutorial we will select the mi D Rose 5.0 Boost custom shoes because it is one of the most wanted Derrick Rose shoes and Derrick Martell Rose wear it to play for Chicago Bulls at most time.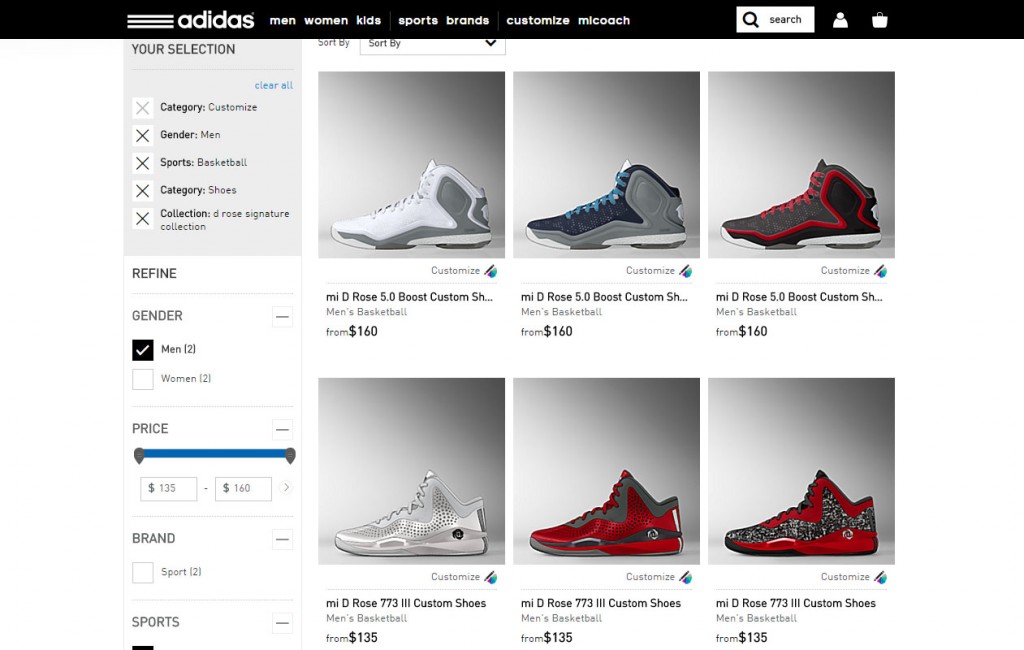 Step 4: Start designing your shoe by selecting a base color for it. The base color is very important because it is the main color for the shoe. It is recommended to select your favorite color for this part. Just go for red if it is your beloved color. Next, select the color for other part of the shoe such as tongue, lining, laces, midsole line, midsole & heel. You might want to see how the most expensive basketball shoes look like if you have no idea about what colors to put.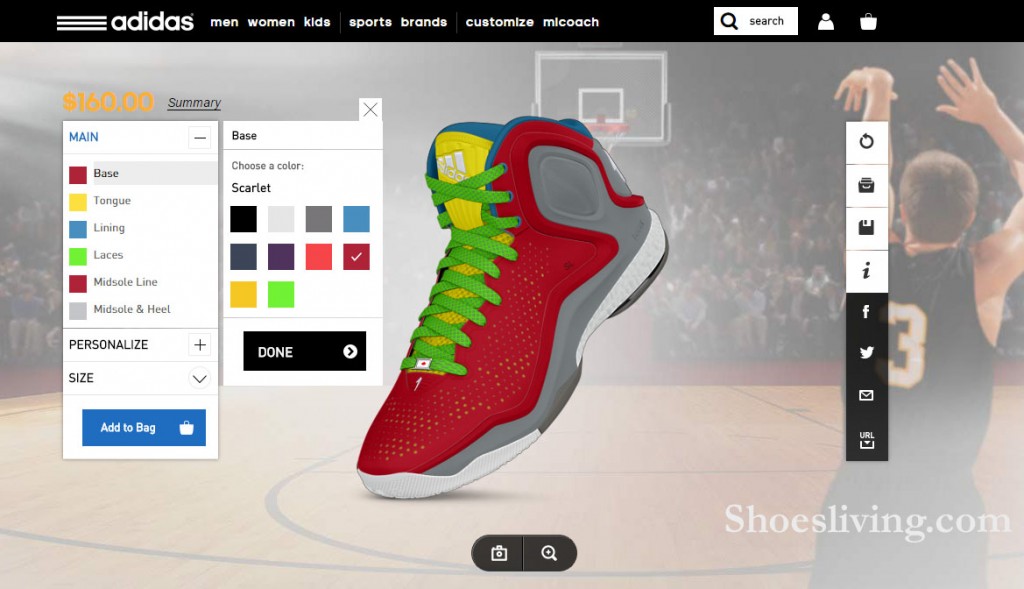 Step 5: Now personalize your own shoe with 6 characters text. There is also an option to select a lace jewel for free. Lastly, select your shoe size according to Adidas size guide. Click on Add to Bag button if you want to buy the shoe you design. You will be redirect to the shopping cart and payment page. Make the payment to Adidas and you will receive the shoes within 2-3 weeks.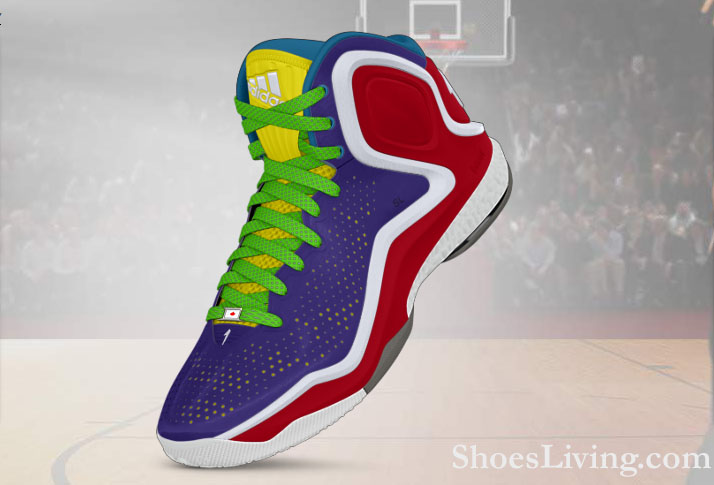 Custom Derrick Rose Shoes by ShoesLiving.com
It costs about $160 for a pair of custom Derrick Rose shoes. The price is considered inexpensive compared to Kobe Bryant shoes (especially the Kobe 8 System iD), LeBron James shoes, Kyrie Irving shoes and custom Jordan shoes. In conclusion, since it is free to customize customize your own Derrick Rose shoes online, why not do it today with no regrets?