Want to know how to design your own high heels online? Here are a few steps you can learn online. Get a piece of paper and answer these questions before starting the first step. What kind of high heel type you want to design? You can choose any heel types among Cone, Kitten, Prism, Puppy, Spool or Louis, Stiletto, and Wedge. What are the main colors you want to put on your heels? Do you plan to add on some straps or embellish your desired heels? If you have already got the answers for these questions and plan to make a sexy heel, let's get the party started!
Step 1: There are thousands of websites out there where you can design your own high heels online but here we recommend one that is really interesting – Upperstreet.com. The website provides a flash online program where you can customize your own shoes step by step and you can place an order with them if you happy with the design. Go to the website from your browser and look for Design Your Shoes -> Start Designing. You can also walk around their shoe gallery to get some ideas if you haven't come out one.
Step 2: You will be led to an exciting page with eight types of shoe styles in front of you. Among them are ballet flat, kitten heel, round toe court heel, platform court heel, peep toe court heel, platform peep toe heel, sandal heel, and platform sandal heel. Choose one of your favorite to begin the design.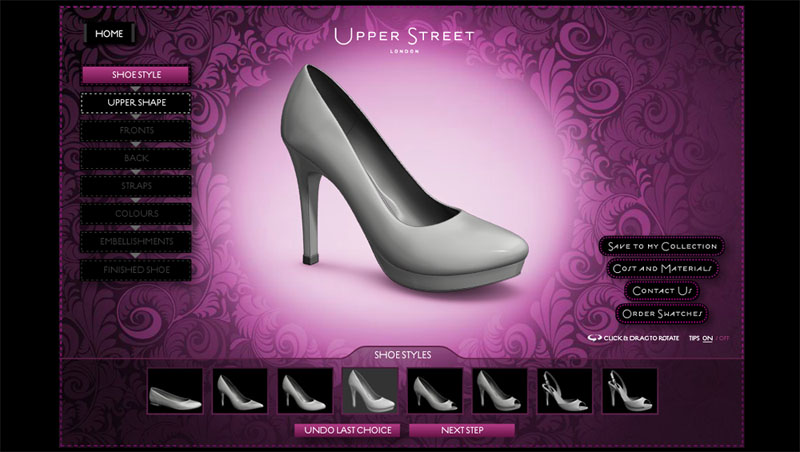 Step 3: You can now choose an upper shape for your high heel. The available shape is depends on the shoe type you choose. For example, if you a platform court heel, you can add an elegant D'Orsay for the upper shape of the shoe. Proceed to the next step to design the front heel if you want to keep it simple.
Step 4: Here you can add a few types of thing to the front heel including a toe cap, an asymmetric front panel, a brogue detail, an opulent Swarovski jewel cluster, a large structured bow, a large petal flower corsage, a buckle front, or others. You may keep it plain and simple too. As for the back, you can choose to add a counter back or keep it plain. A piece of counter back is a good choice if you plan to put contrasting colors or materials on your design.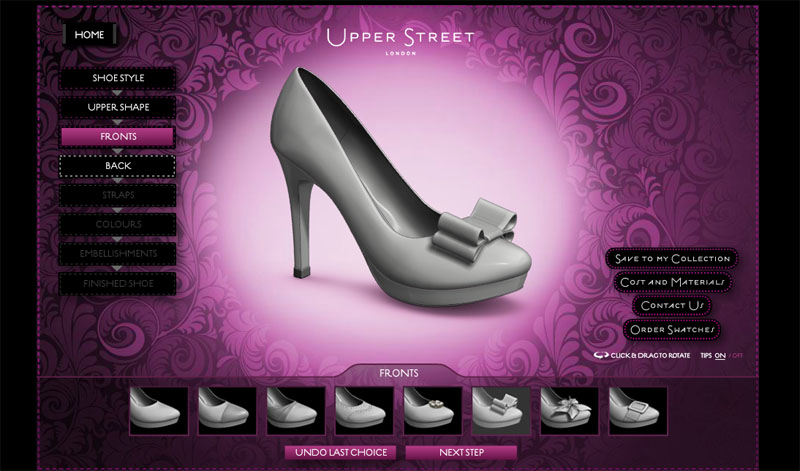 Step 5: Now you can add some straps to your design and start coloring. A classic Mary Jane style strap will make the heels look great! Click on the shoe area then choose a color or material to start the coloring. A color palette will be appeared at the bottom of the online program.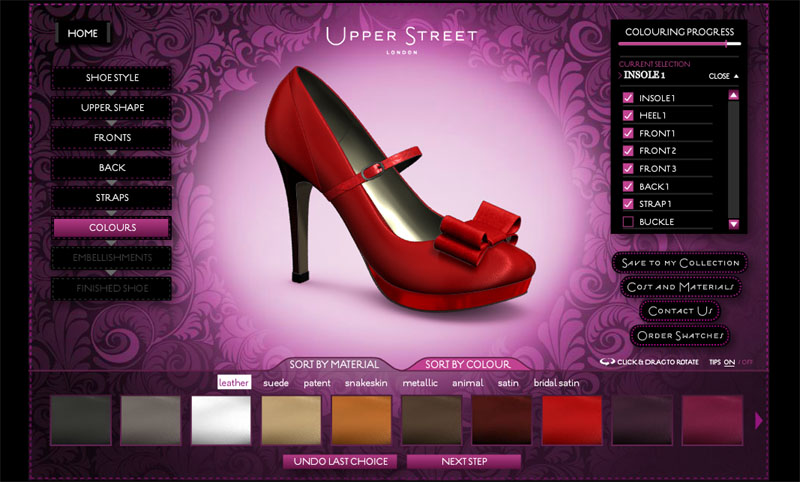 Step 6: Last but not least, it is the step to embellish the heels and make it a unique one. Choose to add either a row of stunning Swarovski diamante trim gems or 7mm gunmetal pointed studs on the heels. Click on the "Cost and Materials" if you would like to know the price of the shoe you have just build. You can add it to your shopping bag and follow the process to purchase the shoe. A nice and unique heel will usually cost in between £200-£300. It will be a priceless high heel because you are the designer.