Hey skate player! It is time to design your own skate shoes! Don't tell me there are thousands of skate shoes on sale out there because I want a pair of unique skate shoes with my own design on it. Me myself is a skateboard enthusiast, I have been searching for special skate shoes to look cool during skateboarding. Once awhile, ill buy some famous skate shoes especially when my favorite brands release a limited edition skate shoe. Some of my favorite brands are Vans, DVS, DC, Converse, éS, Fallen, Puma, Adio, VOX, Etnies, Osiris, Habitat, Zoo York, Lakai, CCS, and a few more to be mentioned. What are yours? Well, it is not important right now because I am going to share you some ideas on how to design your own skate shoes.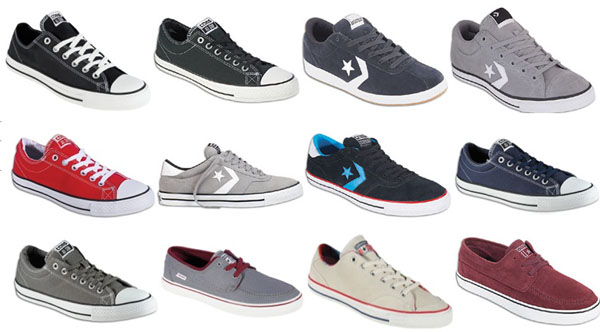 Step 1: There are a few websites allow you to design your own skate shoes online. I used to customize a pair of Etnies skate shoes but it is no longer available. Let's just talk about something still available. Vans, Nike, adidas, and Converse are a few popular brands that allow their customers to customize skate shoes. Here I am going to share you my experience with Converse. First of all, open a new browser and go to Converse.com. Click on the huge Create button on top right and click the Design Your Own button.
Step 2: You will be led to a page full with custom Converse shoes. Choose any styles you want. My preferred top 10 CCS skate shoes are Converse Chuck Taylor All Star Pro Skate, Converse CTS OX, Converse KA One, Converse Star Player XLite, Converse Trapasso Pro II, Converse KA-One Vulc, Converse Pappalardo Pro, Converse Ct Ls, Converse WELLS MID, and Converse Sea Star LS. Click any styles you would like to customize.
Step 3: The rest of the steps are very much similar to one of the previous articles shared here Design Your Own Converse. Let's say you have chosen to customize Converse Chuck Taylor All Star, you will be led to a page with a sample shoe in the middle and 11 boxes on top that tell you the completed steps. At this page you can customize any colors you want for each part of the shoes including the shoe body, tongue, stitch, lining, eyelet, lace, rubber sidewall, racing stripe, heel stripe, and tongue label. The last step is to choose your shoe size and you can place an order with Converse.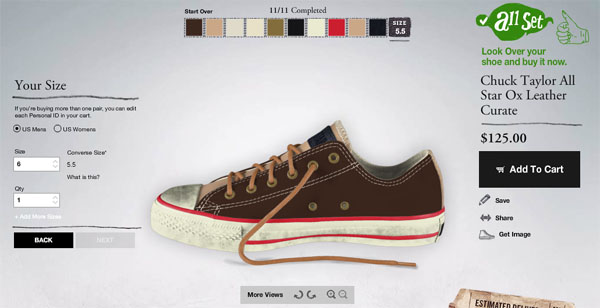 Step 4: Once you are satisfied with your own design, click "Add To Cart" to review your order and make payment. The estimated delivery time will be 3 to 4 weeks depending on your location.

Tips to choose the right footwear color:
If you always wear a multi-colored striped belt, you can make your skate shoe look colorful. Otherwise, keep it simple and nice.
A skateboarder hopes people put attention on his skills but not the shoe, it is unnecessary to create very shiny shoes.
Black or darker shoes work well with navy, black, or grey pants. You may also make a pair of tan shoes if you love to wear lighter earth tones such as beige, white, or blue because these colors work very well together.
Steps to customize other skate shoes: Design Your Own Vans Shoes, Design Your Own Converse All Star.