Have you ever wonder why some people can have their own name etched on their NIKE shoes? Do you know you can actually make your own Nike shoes in any way that you like? Honestly, I didn't realize I can do this until I went to the Nike Town in Oxford Circus few years ago. I was shocked the moment I walked into the Nike outlet because I have never seen so many unique NIKE shoes in my life. They are all filled with different colors as well as different name and design. I did "WOW" at the moment I walked into the NIKEiD Studio located at second floor. There are hundreds of white colors NIKE shoes hanging on top and those are waiting to be painted whenever there is a customer places his order. There are also a few computers inside the studio where customers are able to use the pre-loaded program to design their own Nike shoes. When I see those beautiful Nike shoes sitting coolly on top of the shoe rack, I could not stop myself from walking to one of the computers and start to make one pair of shoes for myself.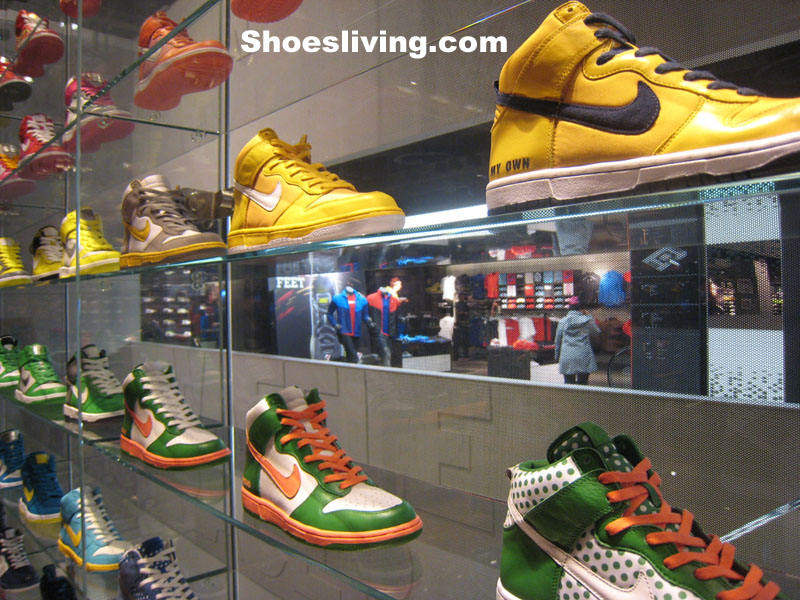 Few pairs of customized Nike shoes sitting on the rack. You can make your own shoes too.
The program is very simple and straight forward to be used. It is almost similar to one you can find online at Nike official website which I have shared it few days ago in the article Customize your own Jordan shoes. I have spent about 15 minutes to design one Nike sports shoe. When I am about to place my order, a staff in the Nike outlet tell me that I can only have the shoes in three weeks time. Unfortunately, I am flying back to United States in a week. The staff told me that I can actually make my own Nike shoes online. I have did that a few times after I flew back to United States and if you are just like me would like to make your own Nike shoes, here is a few delicious steps for you.
Step 1: Go to nikeid.nike.com and choose shoes under the category.
Step 2: Choose a model you would like to customize it. KOBE+8 System, Nike Hyperdunk, Nike Free Run, Nike LunarGlide+ 4, Nike Free Run 3 Hybrid Shield, Nike Shox NZ, or Nike Air Max+ 2013. You can customize any model you like. See: Customize Your Own Kyrie Irving Shoes, Make Your Own LeBron James Shoes, and Customize Your Own Kobe Bryant Shoes for more detail guide on each Nike shoe model.
Step 3: You will see a panel on your left hand side once you landed the customization page. The panel allow you to choose the styles and colors you want to put on each part of the shoes include upper part, mesh, swoosh, lace, midsole, midsole rim, tongue top iD, and others. Try to play around and you will definitely enjoy the fun.
Step 4: Click on the "add to cart" button and follow the instruction to proceed to the payment page. You will need to fill in your billing and shipping address. Now what? Sit back, relax, and wait for the shoe you design yourself. It usually take about 4-5 weeks to deliver.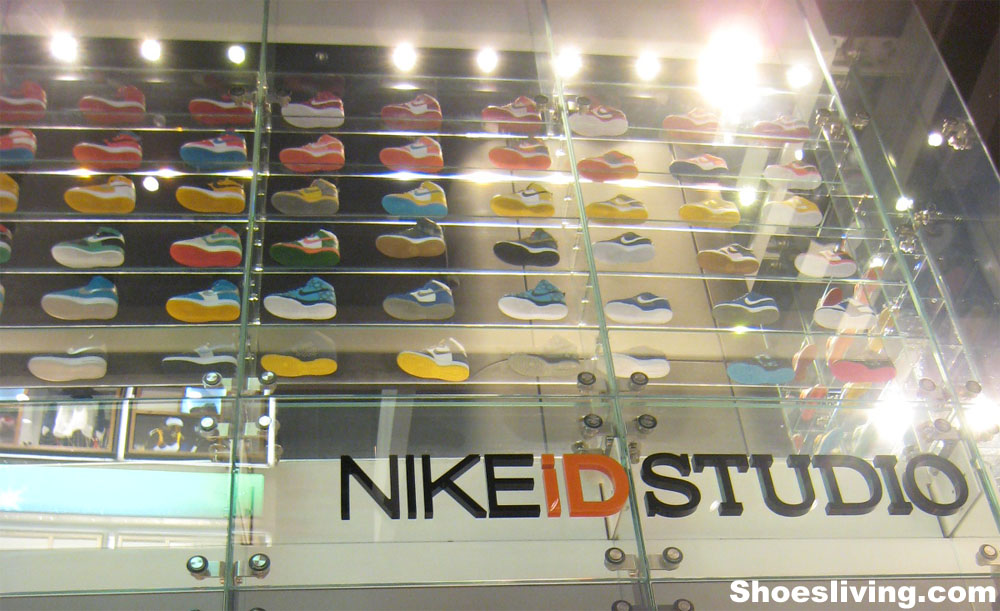 NIKEiD Studio in Oxford Circus, London