Have you ever spend your entire evening shopping for a pair of unique tennis shoes but couldn't even get one? Don't be depressed or unhappy, you can still design your own tennis shoes online through a few famous websites and have them custom made the shoes for you. With less than $200 dollars, you can definitely get a pair of unique tennis shoes you couldn't find elsewhere. This is because each sections of the shoe you design yourself and that would never be the same with those factory made sneakers sitting on the rack in shopping mall. Here are a few tasty steps where you can design and make your own tennis shoes through a few ways.
Step 1: It is always start with a famous brand that you love. Popular brands include Nike, Adidas, Asics, Converse, Feiyue, Fila, K-Swiss, Lescon, Keds, Vans, New Balance, Puma, Reebok, Skechers, and PF Flyers are selling high quality tennis shoes. Let's start the customization work by navigating your browser to Nike website. Why Nike? This is because Maria Sharapova is using the Nike Zoom Vapor 9 Tour. Alternatively, you can also visit Adidas, Converse, Vans or some other brands you like, the steps are almost similar.
Step 2: Click on the NIKEiD button above and then choose the gender you prefer. Select Tennis from the drop-down menu at your left hand side. Choose the style of tennis shoes that you would like to customize. The latest and most popular Nike Tennis shoes are Nike Zoom Vapor 9 Tour.

Step 3: You will be redirect to Nike's online shoe design application page. This screen allows you to select custom colors for 9 sections of the Nike Zoom Vapor 9 Tour. You can start your own design by choosing a traction style from Hard Court, Clay, or Grass.
Step 4: Click on the section you want to put your own color. Customize the color of outsole, shank, upper, vent, swoosh, foot frame, midsole, and lace. Notice that the shoe sample changes colors as you choose the colors on each selection. It is very much like playing a flash game. Complete your design with a personalized short iD and a tongue top iD. You are allowed to use a maximum of 2 characters for the short iD and 5 characters for the tongue top iD. What about MP for Maria Sharapova? Perhaps SL for ShoesLiving.com?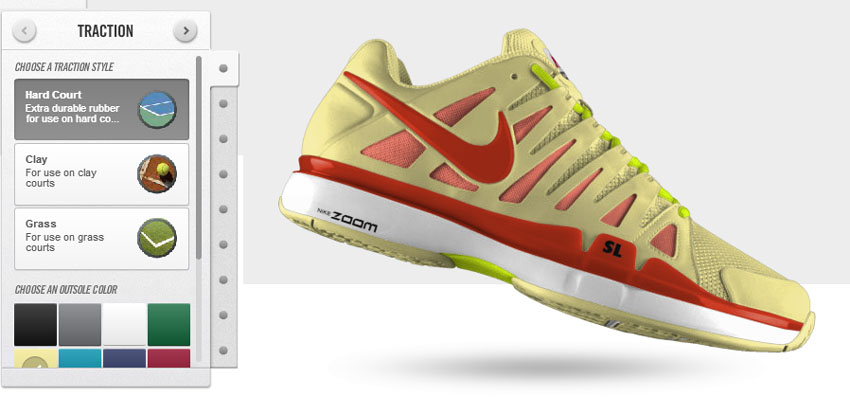 Step 5: Preview the shoe in 360 degree and also zoom it to have a clearer view. Select the gender, size, width, and quantity and then click on "Add To Cart" and proceed to the payment page to buy the shoe. There will be a $12 extra charges for shipping and handling fee and it will take about 25-30 days for the delivery. All you need to do now is wait for the tennis shoe you design your own.
Don't try this at home: Design Your Own Converse, Customize Your Own Jordan Shoes