The old saying, "Better late than never," rang particularly true for shoe lovers. It isn't too late to design your own Reebok shoes now if you have never done this before. Having the perfect pair of Reebok shoes can certainly enhance your personal lifestyle as well as give you a little extra happiness when you wear them out. However, you may not find a pair of shoes with the taste that really suite your tongue although Reebok offers a wide range of shoe styles and available in different designs to choose from. No worries, besides all the choices you can find from Reebok stores, you can always customize a pair of Reebok shoes by choosing your preferred style, colors, and taste. At Reebook online program, it allows you to select any size you want and any colors you love. Here's how you can create one custom made Reebok shoes. Let's do it!
Step 1: Go to Reebok.com and tell them "I want to design my own Reebok" and hit search. A list of available shoes will be appeared, hit any shoe types you want to design to start the customization work! Otherwise, click on this link to access the page directly. You will notice about 3 million unique Reebok shoes have been created!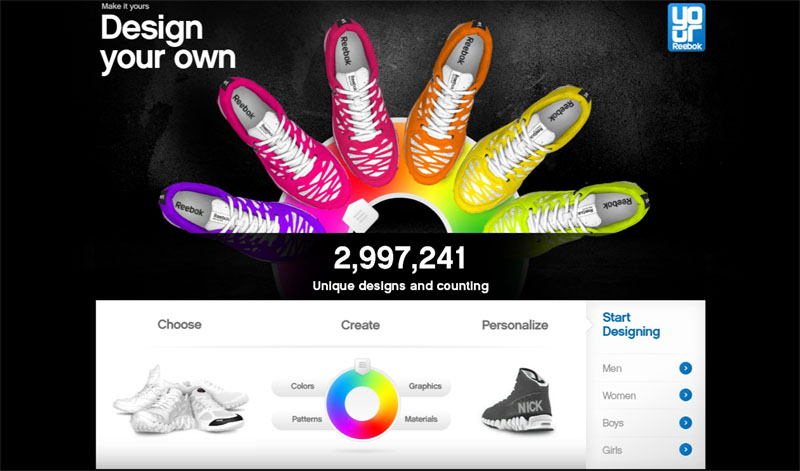 Step 2: Choose over Men, Women, Boys, and Girls to start design. You will then see a list of Reebok shoe types you can put your own design on it. The latest models include Reebok CrossFit Lifter, CrossFit Nano 2.0, ZigLite Run, RealFlex Transition 2.0, RealFlex Run, ZigTech Shark, ZigFly, ZigSlash, ZigPulse, Pump Omni Lite, Pump Running Dual, Pump Fury, Classic Leather Low, Ex-O-Fit, Supercourt, and Ventilator. Currently, the Reebok RealFlex Run received the most designs from people around the world. Click on any model you would like to design. Click on "Start from Scratch" if you are the designer otherwise click on "Customize this design".
Step 3: Select a size to begin. A screen will appear with the shoe you selected. You will now see a panel on your right hand side. Reebok online customization program separates the design into four major parts which are main, sole, top, and back. Move your cursor to any part you want to color and choose your preferred color from the color palette. Every time you click a color, the shoe sample will change to the color you click.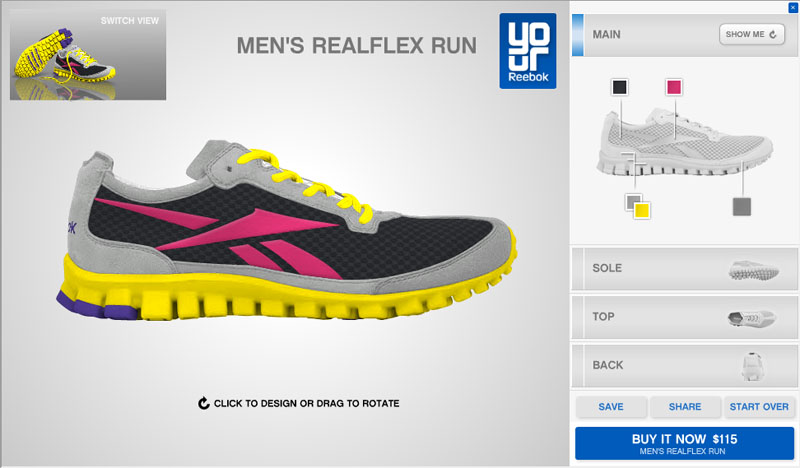 Step 4: The online program allows you to drag the shoe sample to rotate the shoe in order to have a better preview of the shoe you design your own. Once you have finished your design, you can click on the "BUY IT NOW" button. The price of the shoe is shown together in the button too. If you feel there is a need to touch up your design again, hit back at your browser. Last but not least, hit on the secure checkout button and follow the instruction to make your payment. All you need to do now is waiting for a few weeks until Reebok send you the shoes you design your own. The satisfaction is priceless!
Nah, it's never too late to do this too: Design Your Own Converse, Design Your Own Vans Shoes.