Customizing your own pair of Kobe Bryant shoes is really a good thing to do not just on a boring hot summer day but also on a day when you feel like to buy a pair of new Kobe Bryant shoes. Today, ShoesLiving will show you how to customize your own Kobe Bryant shoes in a few easy steps. These instructions are applicable for all kind of Nike shoes but specially made for Kobe Bryant collections.
Step 1: First of all, you will have to access NIKEiD Custom Basketball shoes website at this link. Often you will see more than 20 different shoe styles. Obviously, we are going to click on the KOBE+ 8 System iD Men's basketball shoe to start the customization as shown in the image below. Kobe Bryant shoes start from $180 dollars for each pair which considered cheap compared to some other collections.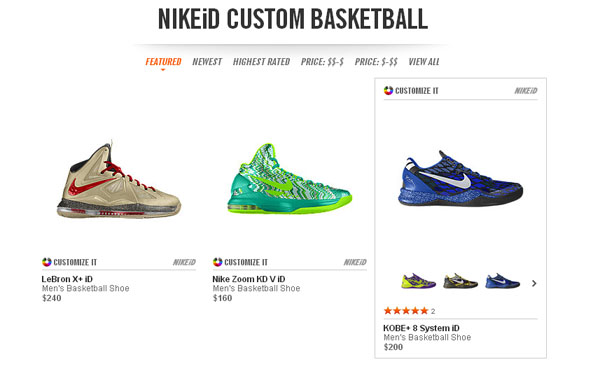 Step 2: Click on the "Start Customizing" button to continue. You will be led to a page with a huge shoe sample in front of you. Notice there is a color panel on your left where you can select your preferred color for each part of the shoes. You are allowed to select any colors you want and put it on heel clip, lace, lining, outsole, Swoosh and Kobe Logo. If you do not have any ideas in your mind, scroll down a little bit and you will see "Start With An Inspiration". That is something to inspire you to build your own shoes.
Step 3: This year is the year of the Snake, thus you stand a chance to put a snake graphic color on the upper part of the shoes. However, you may still choose the holiday graphic if you don't like the snake design. If you are looking to buy cheap Kobe Bryant shoes, the shoe price can be lowered by choosing Kobe 8 Lunarlon cushion or Kobe 8 Orthotic-Ready for the midsole. These two options will save you $90 from $270.
Step 4: Last but not least, it is to place your personal collar id as well as tongue id. Two maximum characters are allowed and you can put any character from A to Z, any numbers or symbols you want. As for the tongue id, it has a little bit more things to play around. Nike allows their buyer to put a different id and colors on each shoe. A maximum of 8 characters are allow on each side. You can put "Kobe" on the left and "Bryant" on the right. Isn't that creative?
Step 5: Now you may view the shoe in 360 degree using the rotate function. Select the gender, size, and quantity you want. The total price of the shoe will then be shown on the left top. All you need is one click at the "Add to Cart" button if you feel like buying the shoe. A custom-made Kobe Bryant shoes will be delivered to you in 6 weeks or less after the payment has been made.
Kobe Bryant is more than just an athlete, so does the Nike Kobe Bryant collections. "Satisfaction lies in the effort, not in the attainment, full effort is full victory." – Gandhi. The satisfaction lies in the effort where you design your own shoes. That is something money can't buy although you may buy some other famous Kobe Bryant shoe collections such as the Nike Zoom Kobe VI (2010), Nike Zoom Kobe VII System (2011), Nike Zoom Kobe I (2006), Nike Hyperdunk (2008), or Nike Zoom Kobe IV (2008).
You might also like: Make Your Own Nike Shoes, Customize Your Own Jordan Shoes.