Perhaps you have seen different types of shoe inserts at shopping mall, grocery store and online shoe store. Adding one to your shoes can brings you a lot of unprecedented benefits. The right shoe inserts can give extra comfort and support to your foot. In some situations, they can be very helpful for people with flat feet (best running shoes for flat feet), plantar fasciitis or people who suffering foot pain.
As there are many types of shoe inserts available in the market, it is vital to choose the right one that fit your needs. There are also orthotic inserts to correct. Therefore, you need to understand all types of shoe insoles before making a cognizant decision.
5 Types of Shoe Inserts
Basically, there are 2 major types of shoe inserts, they are comfort and sport inserts. Comfort insoles can break into 4 different types include cushioned insoles, heel inserts, corrective inserts and orthotic inserts.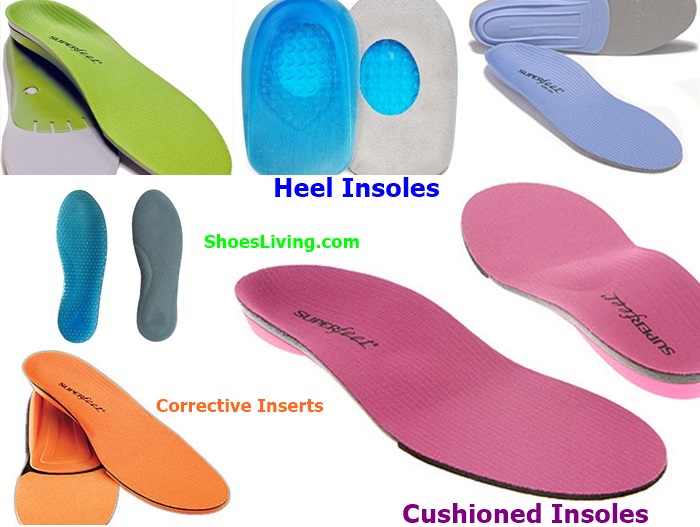 Cushioned Insoles: This is the most common Over-the-Counter shoe inserts. They are usually soft and come in a variety of materials such as gel foam, plastics, and EVA (Ethel Vinyl Acetate). There are different shapes and sizes available to fit different needs. Cushioned inserts can be slipped into your shoes easily to give you extra cushioning and support. Generally, you will feel the differences when you go for hiking, running, cycling, Zumba dance (see Zumba shoes) or any similar activities.
Heel Inserts: Also known as Ball-of-Foot Cushions. This type of insoles cover the area between the middle of the arch and the end of the toes. They are designed to relieve tired or aching feet. It is good for people who need to stand on hard surfaces for long hours. For those who want an extra comfort, you can try heel inserts that comes with massaging gel. Dr Scholl's DreamWalk Heel Liners and Dr. Scholl's DreamWalk ball of Foot Cushion are two very popular products.
Corrective Inserts: Designed for people with different foot type such as flat foot. Get the corrective insoles if you need more support for the arch and heel. Some high-end corrective insoles features moldable base layer, adjustable arch support, deep heel cup, anti-bacterial protection, and heat moldable for a custom fit tailored to any foot. See also Best Slippers with Arch Support.
Orthotic Inserts: Usually, there are three types of orthotic inserts – Rigid orthotics, soft orthotics, and semi-rigid orthotics. Rigid orthotic inserts help to prevent pronation and it is very useful for overweight people or individuals with uneven legs, for e.g. people who involved in an accident before. On the other hand, soft orthotic inserts give a good absorbing shock and improve balance. It helps to relieve pressure from painful zones. As for Semi-rigid orthotic inserts, it improves performance for specific areas. This type of orthotic insoles are very practical for professional athletes. Soft orthotic inserts can be bought Over-the-Counter but not Rigid and Semi-rigid orthotics.
Sport Inserts: Also known as Sport Insoles or Support Insoles because they comes with harder material for structural support. There are many types of sport insoles available Over-the-Counter from running insoles to ski insoles. Select the type of shoe inserts that suit your needs the most. On top of giving the best balance and coordination, support insoles are sometimes good for people with plantar fasciitis (see also Best Sandals for Plantar Fasciitis), structural misalignment or supination or over-pronation.
After reading this article you should be able to understand what are shoe insoles for? Please do not hesitate to leave a message here if you have something to say about this article.