Walked into Nike stores a few times but couldn't find a pair of LeBron James shoes that suits your needs? You are not the only one! Many of us couldn't find the best shoes that we really want. The 2012 and 2013 LeBron James limited edition shoes are nice but sometimes it doesn't attractive enough for some shoe lovers to go for it. No worry if you are dying for a pair of distinctive shoes because now you can make your own LeBron James shoes with NIKEid Customize Shoes online program. You can put any preferred color to the shoes as well as material for certain parts. Let's see how you can do it with the steps by steps tutorial below.
Step Number 1: It is not easy to find LeBron James footwear page in Nike's official website therefore here is the direct link to a page where all the available LeBron James shoes are listed. By the time of this writing, there are 22 latest LeBron James footwear available in Nike online stores for men, women, guys, girls, and kids. LeBron X PS Elite, LeBron X+ P.S. Elite iD, Nike Air Max LeBron X Low, LeBron X PS Elite, LeBron X NRG, LeBron X, and Nike Zoom Soldier VI are just a few to be mentioned. Pick anyone that you would love to customize. Under the shoe title, it explains whether the shoe is for men, women, or toddler with a price tag. In 2016, Nike launched LeBron XIII iD with exclusive graphics and colors that nod to LeBron's hometown. There will be more fun to customize the latest LeBron XIII iD.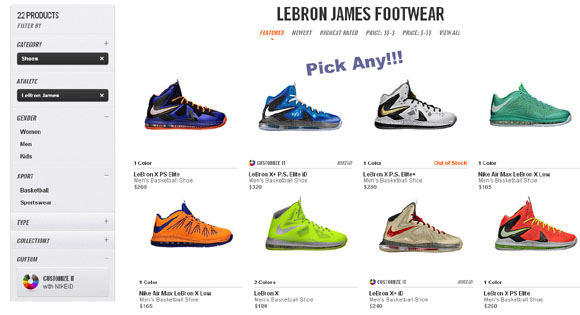 Step Number 2: You will be redirecting to the Nike customization page. Now it's time to start your game! Do notice the color panel on your left hand side. There are at least 11 steps to go through before you can place your order. Some shoe types will have more options depending on the style. For LeBron X P.S. Elite iD basketball shoe, you can select the airbag system among LeBron X+ Sport Pack, LeBron X+, or LeBron X.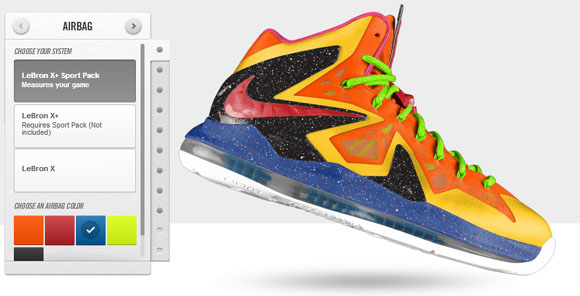 Step Number 3: Continue to customize your own shoe by picking the colors you want for upper, underlay, dynamic flywire, swoosh, lace, lining, midsole, and outsole. You can add collar id for some shoe types. LeBron James collections most famous collar iD are "What we do in life" and "He who conqvers endvres MMIII". "He who conqvers endvres" is a quote from Persius which means "He conquers who endures 2003" in English. Well, you can put your personal iD or leave it blank if you don't like the default options. If you would like to color the personal iD, there is an option at the panel for you to do so.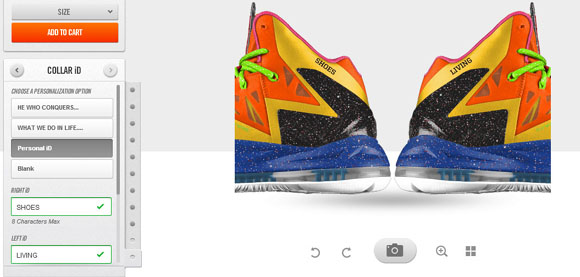 Step Number 4: Last but not least, choose the size, gender, and quantity. Do double check the final price which shown on top left. Click on the "Add To Cart" button and place your order once everything is satisfied. A custom-made LeBron James shoes will usually take 5 weeks or less to deliver to you. It doesn't really matter as long as it is your own design right?
You might not want to miss this: Design Your Own Converse, Design Your Own Vans Shoes