It has been 12 days since we welcome the year of 2013. If you haven't found something interesting thing to do in this year, why not try to design your own Converse shoes online? It is free if you don't plan to buy it and it is cheap if you plan to buy one for yourself as a new year present. A customized Converse sneaker is starting from just $45 dollars. You are allowed to put your own design on the shoe a few thousand times before you decided to order the customized shoe from Converse store. All you need is creativity and inspiration to create one pair of unique shoes. Here are a few steps and tips on how you can create your own Converse sneaker in a few minutes with just a few clicks of your mouse.
Step 1: Visit Converse.com and move your mouse to the Create button located right under the CONVERSE logo. You will then see two images drop down. Click on the one with "Design Your Own" button. Again it is located on your right.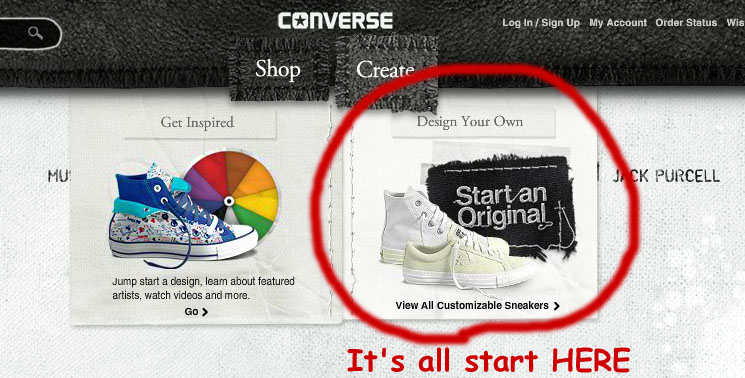 Step 2: For 2013 collections, you will at least see 35 different types of Converse shoes appeared in front of you. Chuck Taylor Arkham City, DC Comics, All Star, DYO Chuck Taylor Premium Leather, Poorman Weapon, Skid Grip, and DYO GLOW are some of the most popular Converse shoes in the market right now. You can choose any one you prefer to start the customization.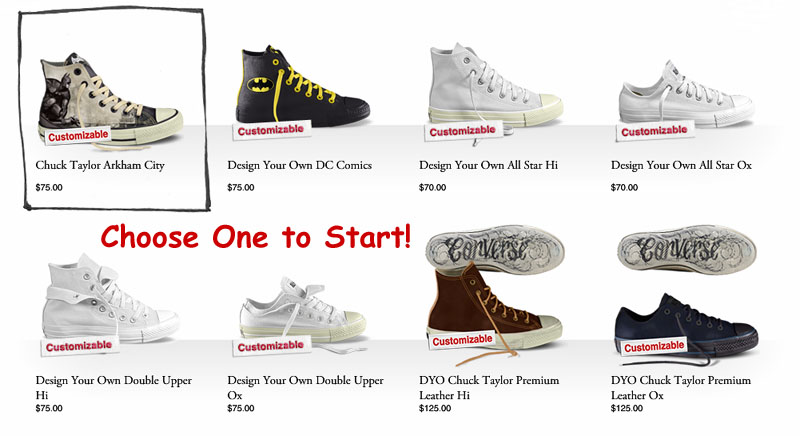 Step 3: Now here is where the fun begins. You can change the color for different sections of the shoe. Just move your cursor to the section you want to change the color and click on it. A color panel will be appeared and just hit the color you like. The color for every section can be changed including tongue, heel stripe, lining, laces, eyelet, stitch, rubber sidewall, and racing stripe. The color will change immediately and you can view your custom Converse shoes from different angles available. You can also zoom it for a clearer preview. For some shoes like the Chuck Taylor All Star Hi Canvas Arkham City, you can put any words you want at the Heel Stripe.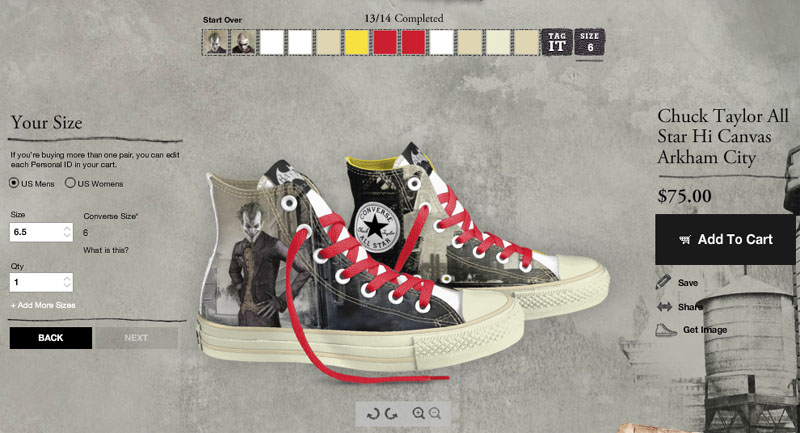 Step 4: Select your gender, size, and quantity. Click Add to Cart and preview the shoe again to confirm your design. You can still edit your design at this stage. Click on "Confirm design" if there is nothing to add on. If you want to design another Converse sneakers you can repeat Step 1 again and add the product to cart before you proceed to the payment page otherwise you may proceed to the payment page directly. The shoe is custom made and it will be delivered to you in less two to three weeks time. It will be the one and only Converse shoe across the country.

You might be interested to know: Design Your Own Vans Shoes, Design Your Own Adidas Shoes.