Most of us who live in this technology era have genes that make us an online shopper. Everyday, there are many shoe lovers buy designer shoes online from DSW shoe store. Only a few of us, however, know how to buy DSW shoes with discount coupons. A 20% DSW online coupons is capable to save you $60 from a $300 purchase. This saving is so astounding because you can get a Crown Vintage Carrie Bootie or Steve Madden Mougly Oxford shoes below $60 dollars from DSW online store. Therefore, do not overlook the discount coupons while shopping online. It takes almost zero effort to enter the discount code in order to get you a huge saving. Follow the guide here and you can buy a shoe from DSW online store with discount coupons successfully.
Step 1: First of all, open a web browser and go to DSW.com to access the online retail store. You will see a list of the latest shoes, boots, sandals, handbags, as well as accessories for women, men, and kids. Browse around the website and you will see different kinds of brands available for sales.
Step 2: Notice there is a bar on top of the page. That's the category for everything available in the online warehouse – women, men, kids, boot shop, athletic, bags & accessories, luxury, brands, and clearance. Click on BRANDS and you will see a list of shoe brands at this page. adidas, ASICS, Brooks, Converse, Keds, Mizuno, New Balance, and many other famous shoe brands can be seen at this page. Pick one shoe brand that you would like to view the online catalog and click on it to enter to the page.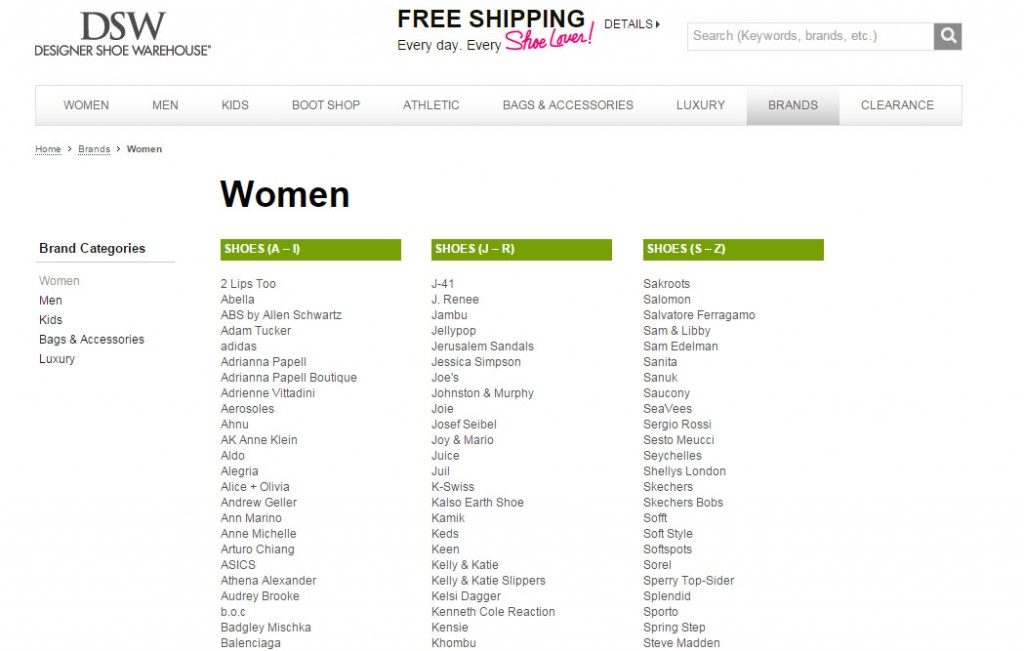 Step 3: Select the size, width, color, quantity and then click on the green ADD TO BAG button for each shoe you would like to buy. Keep adding your purchase until you feel like to make the payment. Click on the BAG icon on your top right to proceed to the payment page.
Step 4: Now this is the most important steps to buy DSW shoes with discount coupons. You should be able to receive DSW coupons through your email once a while if you are a regular customer of them. Alternatively, there are some websites like ShoesLiving.com will share you the discount coupons if you are our members. Enter the discount coupon or discount code you have to the "Enter an offer or cert code" and then click APPLY. The ORDER TOTAL price will change immediately if the code is valid.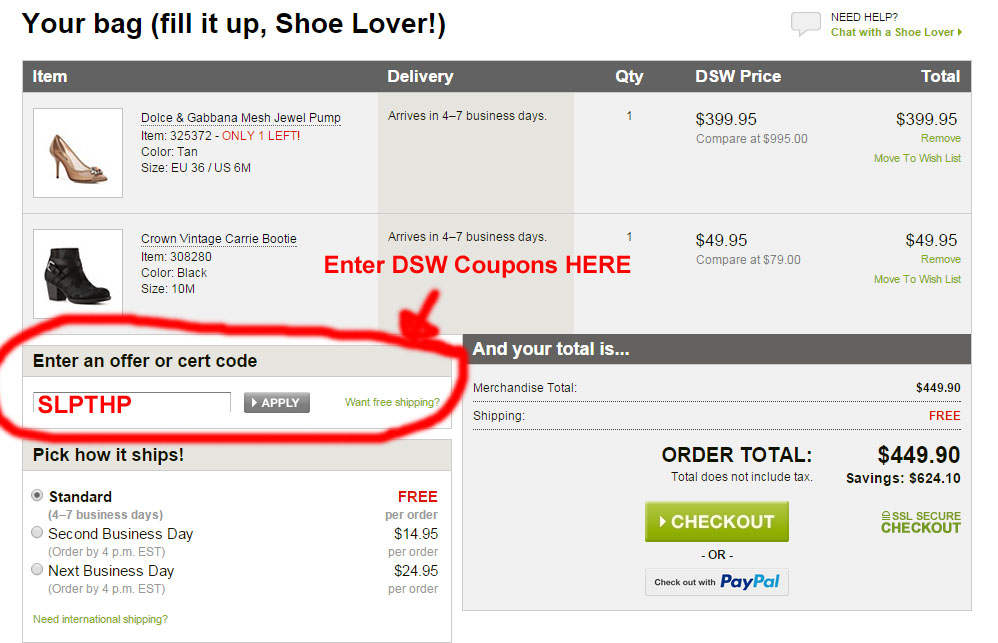 Step 5: Click on the CHECKOUT button and make the payment with either credit card or debit card. Read the return policy carefully before you agree to pay. Enter your shipping address and all you have to do is sit back, relax, and wait for your shoes to be arrived.
DSW coupons are available almost everywhere but you have to spend some time to find a valid one. If it is really hard to get one, you can wait for DSW Lover day, DSW Lovers care, or DSW warehouse sales day to get your favorite shoes at the cheapest price. Big sales often go on during Christmas and Year end.