Perhaps you should customize your own Jordan shoes if you want to walk out and heard some kids from the basketball court shout "Hey! Look at that Jordan shoes, I have never seen one before in any NIKE store out there!" It has been years I heard people around me told me that you can actually go to NIKE store and purchase a pair of customized Jordan shoes. I have never try to buy one for myself until last few days I decided to get myself a unique New Year present – a pair of unique Jordan shoes. There is a NIKE outlet near to where I live in Vineland Avenue Orlando but I did not go to the outlet as I decided to do it online through NIKE portal. Here I would like to share the steps and my personal experience on getting a pair of customized Jordan shoes.
Step 1: Access directly to this link if you are from U.S. The moment you land on the page, Swoooosh! It makes you feels like buying one soon, I mean really soon. First you will see a green color Kobe Bryant NIKE shoe in the middle. On your left hand side there is a NIKEiD PRODUCTS button, just hit the "+" sign and you will see a drop-down box.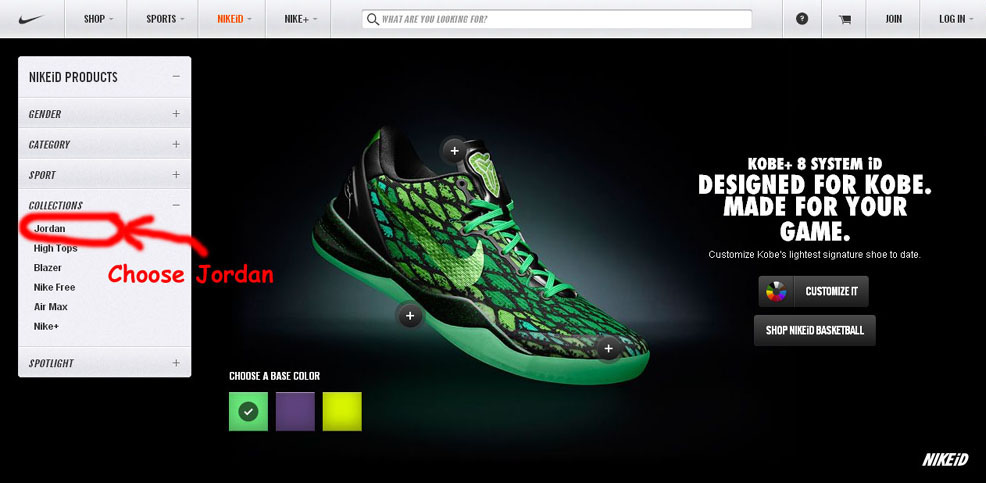 Step 2: Go to COLLECTIONS and hit Jordan. You will be redirected to NIKEiD CUSTOM JORDANS page. Generally, there will be at least 6-8 pairs of Jordan shoes for you to choose. The latest Jordan collections include Jordan Spizike iD, Air Jordan 2012 Low iD, Air Jordan 2012 High iD, and Air Jordan Apha 1 iD. Currently I have not seen any 2013 collections yet. Pick one you want to customize.

Step 3: You will now be redirected to the customization page. On the left side bar, there are about 10 things you can customize your own Jordan shoes starting from upper part, tip and heel, strap, midsole topline, midsole, outsole, lining, lace, personal iD, and Jordan logo. For some model, you can choose your prefer material for each different part. Be it Full-Grain leather, Nubuck, Elephant, or Patent leather. Price is the same regardless of material type or sizes. Every time you change something from the left panel, the shoe in the middle will be changed accordingly and that is the shoe you are going to get.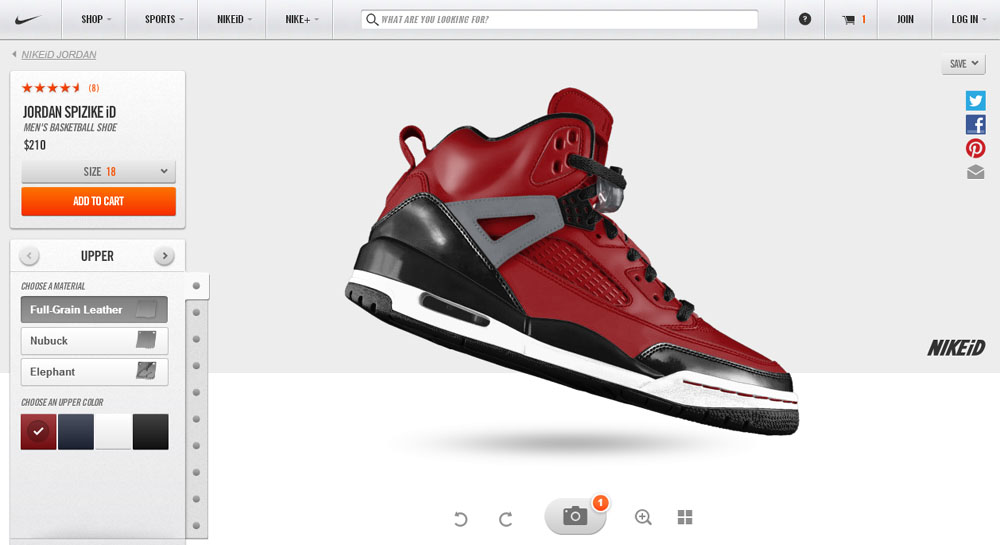 Step 4: Once you have satisfied with the Jordan shoes you customized, choose the gender and size then hit "Add To Cart" and then Check Out if you have nothing else to buy. If you have a PayPal account, you can check out with it. Otherwise, you may register and become a Nike member during checkout. Payment can be made easily with credit cards.
Updated on June 10, 2016: Check out some of the Customized Jordan shoes. I guarantee you never see such cool Jordan shoes before! Also, I have just tried to customize Air Jordan Spizike iD and you might want to check out the steps to customize your own.
That is! That is the four easy steps to customize your own Jordan shoes. I spent about a day to design my own Jordan shoes and I received my shoe 4 weeks after I made the payment. Now I am going to walk to the basketball court in Orlando to surprise some kids out there.