The feeling to wear a flip flops is good but you will even feel better if you can design your own flip flops. Flip flops are a kind of typical open-toed shoes that everyone loves to wear especially walking on the beach. "Flip flops" is also a cooler name to call this type of sandals. It has different types of names in different countries. Generally, we also called it slippers, thongs, jandals, slappies, slides, or as simple as sandals. However, it is known as Zori in Japan. Ever since Flip flops became popular in the '60s, there are more and more different types of flip flops were introduced in the fashion world. It is simply because a flip flops is easy to wear for any casual occasion. As for the price, flip flops are as cheap as $1 up to a few tens of dollars depending on the quality and brand. Generally, most of the Flip flops available in the market today are made of rubber, leather, foam, suede, or plastic.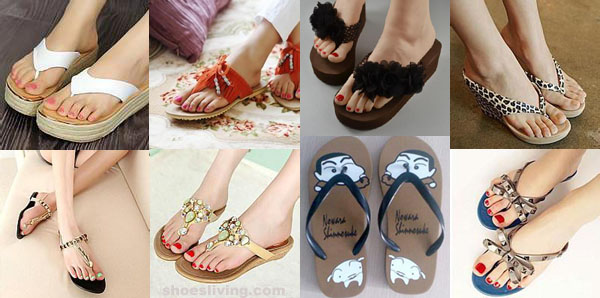 Summer is coming to a close, if you have always been dreaming to buy a custom designed flip flops as a gift to yourself or your friends, it is the right time to start hunting. Customize your own flip flops is no longer just a dream but it is now a fashion trend. A pair of nice flip flops can anytime replace heels at any occasion. Unlike customized high heels or customized wedding shoes, there are only a few parts where you need to put your own design on a flip flops, such as the ribbon, thong and backing. Indeed, unique colors and themes are the most important thing to attract attention.
How to Design Your Own Flip Flops
It is essential to know your own style before creating the design. You can make your flip flops to look sunshine, cool, bad-ass, colorful, energetic, or to match with your cloths. The first way to make a custom flip flops is easy. You can buy a ready-made flip flops and customize it with a nice ribbon or flowers on the Y shape. This method is very simple and does not require a lot of money. Alternatively, you can go to a few famous websites that allows you to design your own flip flops and place your order. The shop will then create a pair of unique flip flops based on your own design and send it to you. This method is much more challenging and also more fun. Branded flip flops such as havaianas allows you to do so. Let's see how you can make your own flip flops with havaianas.
Step 1: Go to havaianas official website, select your country, and look for the "Make Your Own" button located on your left panel.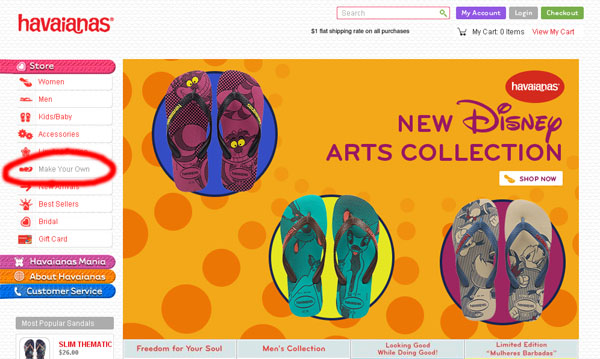 Step 2: Now you will see a huge plain flip flops display in front of you. It requires only four simple steps to complete your design. The first thing to do is to choose a category from women's top, women's slim, men's and kid's. Then you have to choose a size and desired quantity.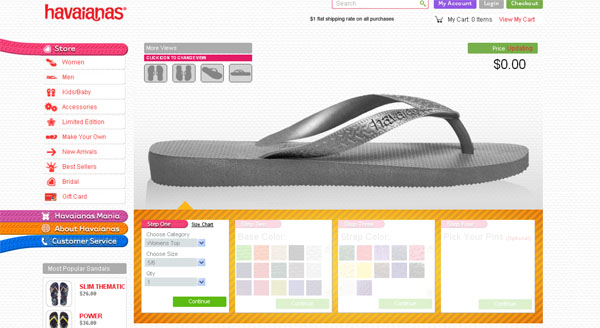 Step 3: Choose a base color for your shoe and choose a strap color. Many flip flops lovers would like to put an image on the base but currently it is not available in this website.
Step 4: Proceed to last step to pick your pins. There are more than 30 types of pins available for you to select. Each of them comes with different price and you can check the price by mouse over to the pin image. You are allowed to place 4 pins on a pair of flip flops. Just drag and drop. The price will change accordingly. Alternatively, you can skip step four if you don't like any pins on your flip flops. On the other hand, click on continue -> check out button once you are satisfied with your own design.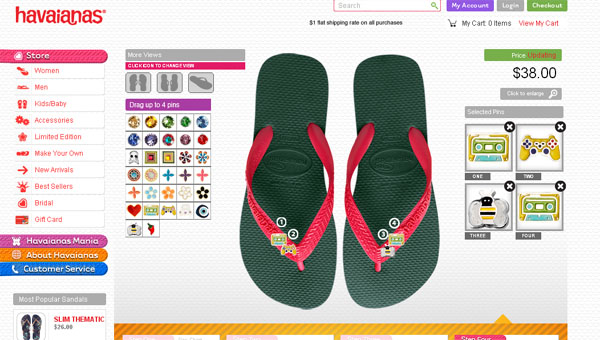 Last but not least, not to be missed: Design your own sneakers, Design your own Converse.