Today is a good day, and it is a day where you should design your own Adidas shoes online through the official website. And yes, you can place order according to the design you want and have them delivered to your doorstep within weeks. All you need is inspiration, creativity, and a mind full with colors. At this time, in this age of internet world, you can create your own Adidas shoes easily with just a few clicks in front of your computer. And in the internet world, you can make payment either through PayPal or credit card and buy your desired shoes without the need to go out from your house. If you are just like me with the dream to own a pair of unique Adidas shoes with your own name on it, these steps could help you to get one easily.
Step 1: Open your web browser and type in www.adidas.com/us/content/miadidas/ or you can click the link here. At this page you can choose the type of shoes you want to customize. The button is very small and first time visitors may not able to see it. It is circled with red pen in the image below. The latest Adidas shoes you can customize include MI SUPERSTAR II, MI D ROSE 3, MI SUPERSTAR II, MI ADIZERO CRAZY LIGHT 2, and MI ADIZERO 5-STAR. Here in this tutorial I will use the MI ADIZERO CRAZY LIGHT 2 because the shoe is really attractive. For Derrick Rose shoes, see Customize Your Own Derrick Rose Shoes.
Step 2: Once you have chosen the model you wish to put your own design, you will be redirect to a flash page. You will then see a long panel on your left where you can put your preferred colors and material on different part include the base, tongue, stripes, lining, tongue lining, laces, eyelets, sprintframe, midsole, and outsole.
Step 3: Other than choosing the colors, you can also put your own laser etched name, laser etched number, and personalization logo. Personalization is depends on the shoe models you choose. Some shoe models like the Adidas MI SUPERSTAR II allows you to have a lace jewel.
Step 4: The last thing to do is nothing but choose the gender, region, as well as sizes. Buying a customize Adidas shoes is a little bit special as the website allow you to choose left foot size as well as right foot size. Perhaps in certain circumstances somebody will need different sizes? I will strongly recommend you to measure your foot size at any Adidas store near to your house before placing your order. Using measurement from other brands may not be accurate for Adidas. In addition, US size is a little bit different with UK size. Thus, it is recommended to measure your foot size properly.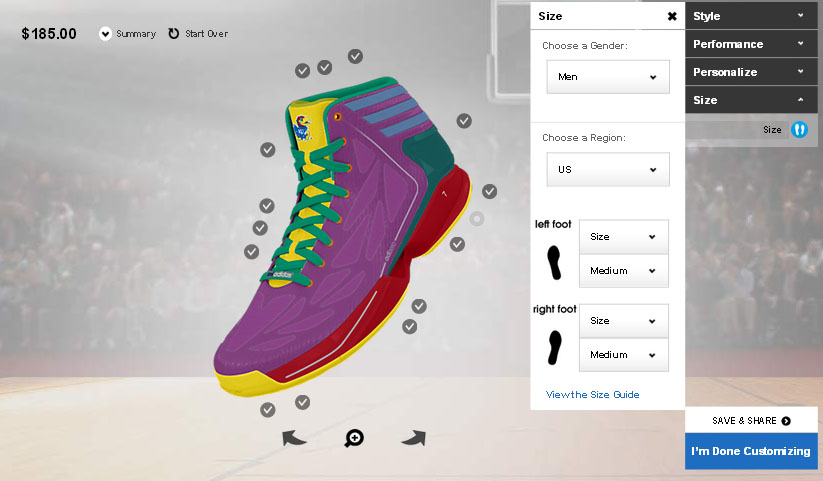 Step 5: Now click on the "I'm Done Customizing" once you have satisfied with your own design. A pop-up box will be appeared showing you the final price for the shoe with the final image. Click "Add to Bag" and then proceed to "Checkout". Once a while, Adidas will send you a promotional code if you are a regular customer. If you have one you can key in at the promotional code text box and click on the Apply button. The price will be changed after the page is refreshed. If you do not have any promotional code, just proceed to fill in your billing and shipping address. Last but not least, it is the payment page. You can make the payment through credit card or PayPal. A digital receipt will be appeared after the payment is successful. All you need to do now is save the receipt and wait for the shoes you design yourself.
The fun is never less: Customize Your Own Jordan Shoes, Design Your Own Vans Shoes.