There's just something about Batman Converse that makes everyone wants it badly. If you are a hug Batman fan and have been dying to get a pair of custom Batman Converse shoes, today is the right day to create your own one. About three months ago, we shared an article on how to design your own Converse. The article receives many positive feedback from our readers and some of them would like to know how to make their own Batman Converse. Well, Batman is a cult icon, it would be great if you can put your own design on a pair of Converse shoes for kids, toddler, baby, men, or women. Let's get the party started!
Step One: Although there are a few more websites allow you to customize your own Batman Converse, we highly recommend Converse.com because they are Converse's official website. There will be two huge buttons on top of the page (Shop & Create) once you have landed Converse.com. Move your mouse over the "Create" button and click on the "Design Your Own" button. A list of Converse sneakers will be appeared in front of you. Scroll down a little bit and you will see a black Batman Converse with "Design Your Own DC Comics" label. Click on it and the game will be started in a few seconds.
Step Two: There are 16 steps you need to go through in order to completely build your own Batman Converse. The first step is to select your preferred woven patch. It depends on whether you are a hero or a villain. You can choose Batman patch, Joker patch, Riddler patch, Catwomen patch, or not to put any patch.
Step Three: The next step is to choose an outside body for your shoes. You are allowed to choose a color or print on the shoe. We would recommend a print because it makes your Converse look like Batman's shoes. Again, you can choose Batman, The Joker, The Riddler, and Catwoman design. The next three steps are to choose either a color or a print for inside body, tongue, and heel stripe.
Step Four: You may now the sample shoe changed to what you have selected in the first five steps. Now choose any color you want for lining, rubber sidewall, racing stripe, toe bumper, toe cap, medial eyelet, lateral eyelet, stitch, as well as lace.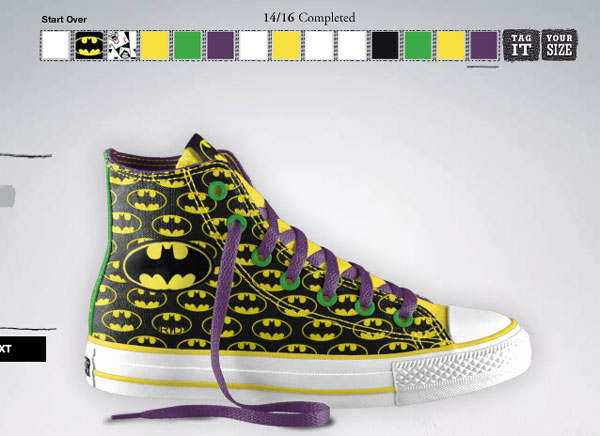 Step Five: Step 14/16 is to tag the shoe with your personal iD. Select either low rear or heel stripe to put your own id on it. You may now review the shoe in 360 degree with the "More Views" function below the sample shoe. Last but not least, select your shoe size and follow the instructions to make payment and have Converse deliver your custom Batman Converse to your doorsteps within three weeks.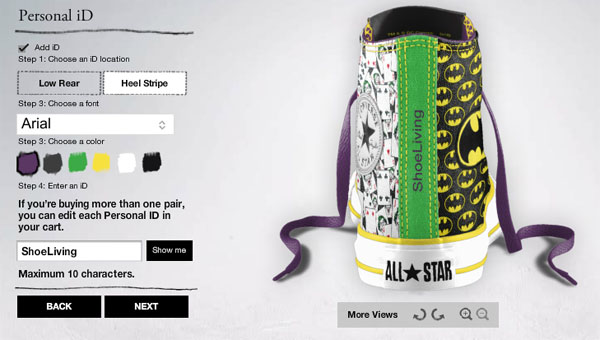 If you do not have any idea to design your own Batman Converse, check out some of these custom Batman shoes created by other fans. It may spark your brain and give you some idea to create your own.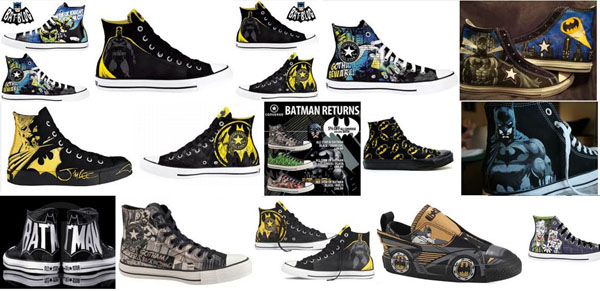 Custom Batman Converse