It is incredibly easy to customize your own Jordan baseball cleats online with the free application provided by Nike's official website. If you are huge fans of Jordan, you need to try at least once to customize and design your own Jordan baseball cleats because it can be done easily by using a mouse. In addition, you can also place an order with NikeiD and they will custom build the baseball cleats base on your design. However, creativity, inventiveness, and ingenuity are still the most important things in order to create a very unique Jordan baseball cleats.
Regardless of what devices you are using, either a PC, Mac, iPhone, iPad, Android tablets, or any computer devices that is able to connect to the internet, you can customize your own baseball cleats with NikeiD for free. Connect to the internet now and you may follow the step by step guide to make a pair of your own Jordan baseball cleats.
Step 1: Open a web browser and access to NikeiD page at Nike.com/us/en_us/c/nikeid. Under NIKEiD Products, click on the SPORT category and then click on Jordan.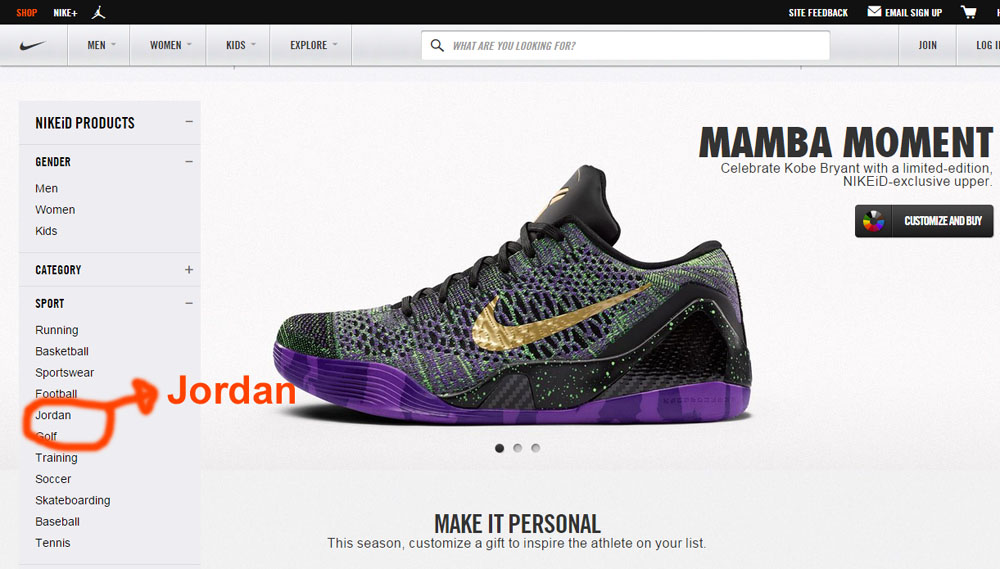 Step 2: At this page, you can filter anything that you don't want to see. First, select Shoes and Cleats for the category. Give it a second and the page will be loaded with all the available Jordan shoes and cleats only. Now you can filter the result by selecting "Women", "Men", or "Kids". You can also filter a few more things such as the material, colors, or athlete but it is recommended to leave it as it is.
Step 3: Decide which Jordan baseball cleats you want to customize and select it by click on either the image or the name of the cleats.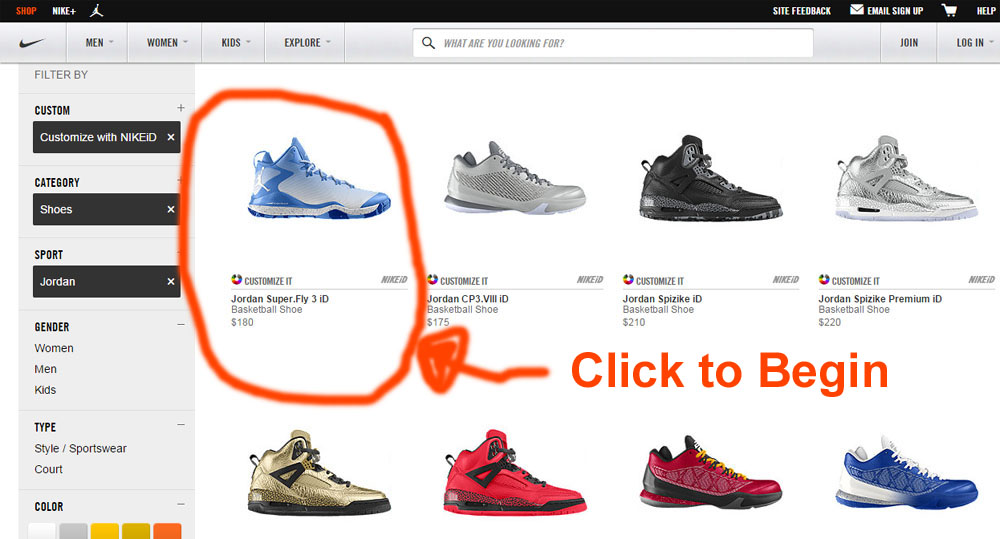 Step 4: Click on Start Customizing to begin your design. A sample shoe will be displayed on your left and there is a drop-down menu on your right. In that drop-down menu panel, you can select the color, material, text, or graphics you prefer on each part of the cleats to customize things like base color, tongue, lining, lace, logo, midsole, outsole, and accent.
Step 5: For some Jordan shoe models, you can customize it with a short iD, long iD, or both. There is also an option to add your team number on the shoe. All you need to do is click on the drop-down menu and enter your preferred number or iD. It should be very familiar to you if you used to make your own Nike shoes with NikeiD.
Step 6: Go to the nearest Nike Store and measure your shoe size. Enter your shoe size to the panel if you decided to place an order with NikeiD. Use the 360 degree viewer feature to view every part of the shoe before you click on the ADD TO CART button to proceed with your order.
Step 7: If you think NikeiD is expensive, you may print out your design, bring it to your local cleat store and ask if they can custom build it for you. It usually cost between $100 and $140. Lastly, you can customize your own Nike Elite Socks to match your Jordan cleats.
Generally, it is costly to customize your own Jordan baseball cleats but the uniqueness is somehow can't be measured by money. A pair of cheap baseball cleats cost less than $50 but they don't have your unique iD, number, or your name on it.