It's February and we definitely love February. Perhaps it is because February is the shortest month? Last month, we shared an article on how to design your own converse and we did receive some feedbacks from our readers saying they want to know how to design a pair of Converse All Stars. Let's talk a little bit about All Stars before you start to design one for yourself. It's all started in 1921 when Chuck Taylor complained the Converse All-Star make him feels sore feet. Converse then offered him a job and since then Taylor's signature was added to the sneakers. Want to know how comfort it is? Follow the steps below to design one and place your order then you will know.
Step 1: Land into Converse official website and look for Create -> Design Your Own. You will then see a "Customize a Converse Sneaker" page with a sentence tell you the estimated delivery time is 3-4 weeks. Down there, there are a few pairs of Converse All Star shoes. They are all in white because they are waiting for you to put colors and design on them.
Step 2: Choose one All Star style that you like to start the design. You can choose either All Star Hi, All Star Ox, or All Star Light. Click on the one you prefer. Although there are not much of basic styles to choose, there are thousands of color combinations where you can put on the shoes.

Step 3: Now you should be at a page where you need to put colors on outside body, inside body, heel stripe, tongue, lining, rubber sidewall, toe bumper, toe cap, racing stripe, medial eyelet, lateral eyelet, stitch, and lace. You will see a color palette and print palette appear on your left once you click on the shoe image or the square box on top.
Step 4: You can tag your Converse All Stars with a personal ID once you don't feel like to change the design anymore. You can choose to place the id on low rear or heel stripe. As for the font type, either Arial or Monotype Corsiva font is available. A maximum of 10 characters is allowed for the id. Perhaps you need to give Converse a call if you need something longer than that.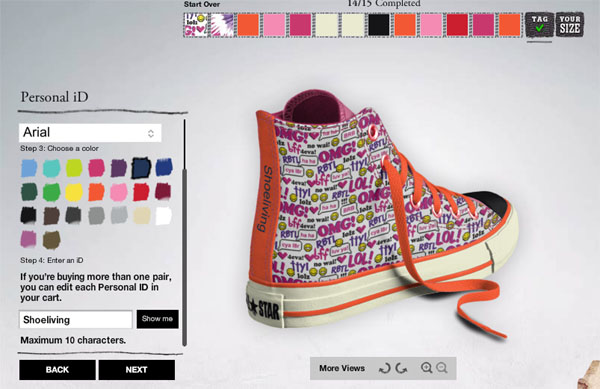 Step 5: You can view the shoe you design in 360 degree by clicking the "More Views" button below the shoe image. Once you are happy with the design and want to place an order with Converse, you may first choose the gender of the shoe and the size you want. Well, if the design is really attractive, you can place more than one pair. The total price will be shown on your right hand side above the "Add To Cart" button. Double check the price before you hit the button. Confirm your design and you can go to your cart to proceed to payment page. Shipping address and billing address is needed so you will need both of them with you in order to get your shoe in a few weeks time. The Chuck Taylor All Star is widely recognized around the world a symbol to express oneself. Wearing one pair of it that you design your own could express yourself honestly.