A true baseball fan should know who are Babe Ruth, Brandon League, Alex Rodriguez, Derek Jeter, Hank Aaron, and Barry Bonds. But does a true baseball enthusiast know how to customize a pair of inimitable yet unique baseball shoes? Whether you are a professional baseball player or you are a huge baseball fan, you can actually customize your own baseball cleats online for free. You can even customize your own baseball glove, jersey, bat, and uniform for every baseball player in your team.
There are many cheap baseball cleats on sale but often these new cleats are not what you prefer especially when you have your own custom baseball glove, jersey, hats, or bat. A pair of limited Jordan baseball cleats may not fit your needs too. If you have been shopping whole day at baseball shop but couldn't find a pair of baseball cleats that matches your needs, you have to design and customize your own baseball shoes. You can create a retro cleats or custom build a metal cleats, the option is in your hand. In this tutorial you will be taught how to customize your own baseball cleats through Nike official website.
Step 1: First of all, go to Nike.com and select your country as well as language. Go to EXPLORE and then click on Baseball. NikeiD is a program that allows Nike fans to customize their own shoes, gloves, jersey, uniform, and accessories online, thus, you can access NIKEiD from PC, Mac, iPhone, iPad, or any Android devices.
Step 2: Select Cleats under Category. You should be able to see Baseball / Softball under the Sport tab on your left. Under the Athlete tab, you can select any design you want, for example, Mike Trout or Jordan baseball cleats.
Step 3: Under the Shoe Technology tab, you can select any style you want among Nike Zoom, Nike Air Max, Nike Lunarlon, Nike Flywire, or Nike Air. Scroll down and click on the Customize with NIKEiD under Featured tab.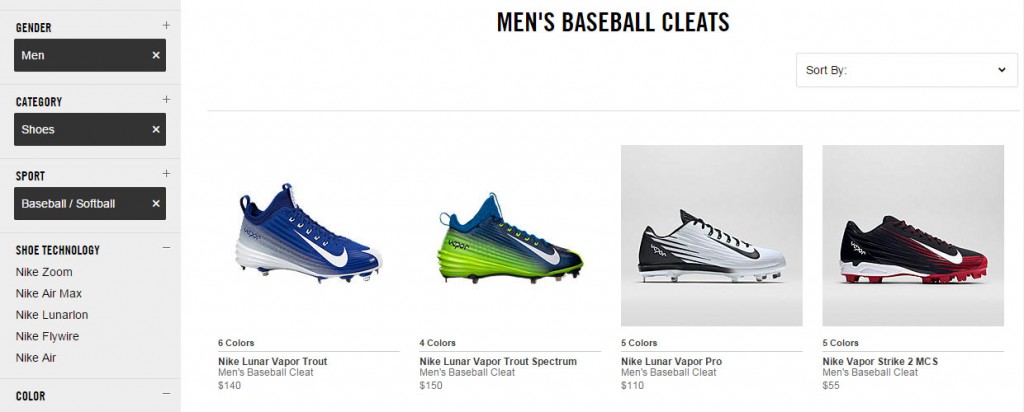 Step 4: The shoe you selected will become a huge sample shoe in this page. Notice there is a color/pattern panel on your right. Whatever you select in this color panel reflects the sample shoe and that's your final product. If you like red baseball cleats, you can select red for every part of the shoe. Go through the steps and select your prefer color or pattern for each part of the shoe include upper part, mesh, midsole, outsole, and more. Lastly, remember to personalize your own Baseball cleats with a unique id that represent you.
Other custom shoes: Design your own running shoes, customize your own basketball shoes, and design your own tennis shoes.
Step 5: Click on Add to Cart button and make your payment at the payment page. You customize your own Baseball cleats and Nike will craft it in the U.S.A. Once the product is ready, they will deliver the cleats to your doorstep within 2-4 weeks.

Custom Baseball Cleats
You might want to see this: Design your own football shoes, design your own Golf shoes, and design your own skate shoes.
Alternatives brand to customize your own Baseball cleats: Mizuno (Mizuno 9-Spike Advanced Swagger 2, Mizuno Wave Swagger 2 Trainer, and Mizuno 9-Spike Vapor Elite 7 are a few popular Baseball cleats for men, women, or youth), New Balance, Boombah (Try Rage Molded MID, Rage Metal, and Rage Trail), Adidas, and Reebok.
Last but not least, you can use the contact us feature to send us the custom baseball cleats you have just made with Nike or other brand. You may also send us the photo of any limited edition baseball cleats if you have one such as the Jordan baseball cleats or Derek Jeter Cleats.