Dreaming to wear a pair of unique wedding shoes on your special wedding day? Want a pair of shoes that never seen before? Why not design your own wedding shoes? It will be a pair of attractive wedding shoes on your special day. With the advance technology we have today, anyone can just design their own wedding shoes even though they have never done one before. There are many wedding shoe websites allow their users to design wedding shoes through their online program. You can place an order with them if you happy with the design. Generally, it will take about 3-6 weeks for any bridal shop to custom made the shoe you create your own. Besides, there are also a few popular iPhone apps and Android apps allow you to draw your own wedding shoes and put on any colors you want. Let's see how can you create your own wedding shoes uniquely.
Step 1 – Start with the Shoe Type: Things will be easier if you start to plan the shoe you want based on the shoe type or style. You can choose ballet flats, mid heels, high heels, flat sandals, heeled sandals, gladiators, party heels, flat oxfords, heeled oxfords, ankle boots, wedge heels. Once you have decided the shoe type, you can also choose the front part of the shoe, be it round toe style or peep toe style. If you need more height to match with the groom, you can go for the extra high heels that will give you extra 6 inches height. Stiletto look nice but if the heel make your feet tired, you can go for square heel.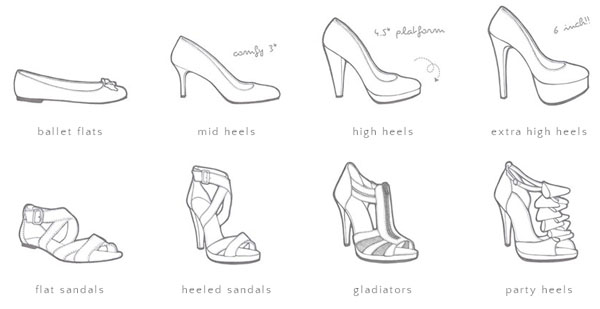 Step 2 – Choose the shoe material: Unlike normal shoes, wedding shoes can be unusual. You can make it look like anything you want because it is your wedding. Many brides concerned about the shoe color but the material can't be overlooked too. The material plays an important role to ensure your wedding shoes work well with your gown. It will be perfect if you can use the same material from your gown to the shoe. However, if that is impossible, choosing a matt material might be ideal too. Wedding shoes are important but they often don't outshine the wedding gown.
Step 3 – Choose the color you want: It is always white but it doesn't have to be always white. Teal, Tiffany blue, Fuschia, Yellow, Black, Navy Blue, Royal Blue, Silver, Brown, Orange, Diamond White, and Gold are some of the popular colors for wedding shoes in the recent year. Choose a main color you prefer so that you can play around with toning for toe, back, heel, and other part of the shoe.

Blue Wedding Shoes
Step 4 – Decoration: Now you have decided the shoe style, material, and colors. It is important to put some decoration on it so that it looks special. Ideas are unlimited therefore you can do anything to make the shoe look nice. Butterfly wing pendant or butterfly diamond pendant will make the wedding shoes look elegant. You may also add a crystal rose, butterfly bow, silk rose, thin bow, double bow, double rose or anything you like to make it a nice pair of special wedding shoes.
A custom made wedding shoes usually cost in between $200 and $300 dollars. If you design your own wedding shoes and feel like to put your design into real shoes, you can place an order with any bridal shoe company and they can deliver to you in few weeks time.
Want a special high heels? See also: Design Your Own High Heels. Want a unique Vans? Try to Design Your Own Vans Shoes.