December is definitely the best month to shop for running shoes because sales are available almost everywhere. Shoe stores often offer clearance sales during year end and retail sales is expected to jump more than what economists predicted last month. There is nothing to worry if you didn't manage to buy a pair of running shoes during Thanksgiving sale, Black Friday sale, or Cyber Monday sale. This is because there is always a chance to design your own running shoes online. Be it Nike, Adidas, Converse, Puma, Reebok, or Vans, you can always design it in your own way through the internet at anytime you want because they are available 24/7. On the other hand, you can shop in comfort and avoid the crowd in a retail store to grab the best deals. Now this is what you can do during December holiday.
First of everything, pick a running shoe brand that you want to put your own design on it. Nike, Adidas, Converse, Puma, Reebok, or Vans are a few famous shoe brands that allow you to design your own running shoes online. Asics, Mizuno, and Saucony are some other popular brand in making running shoes but temporary they do not allow their customers to customize shoes online. For the rest of the brand, you may pick one and access the direct tutorial link here:
Each of every tutorial comes with detail step by step guide as well as high quality images to teach you how to customize and design your own running shoes. It always starts with picking a plain running shoe according to your preferred style and then put color on each part of the shoes including eyelets, laces, tongue, label, outsole, midsole, vamp, eyestay, quarter, formstrip, collar, heel cap, linings, and logo. Certain shoe brand like Batman Converse allows you to customize each shoe with different design. This is something anomalous but unique because left and right are same shoe but decorated with different thing.
Once you have landed at the official website for shoe customization, say Nike, remember to select running sports -> running shoes. You can then start to customize your own shoe to match your character and running style. Almost all the famous online customize portal allow you to place an order with them according to your own design. Once you have finalized your design, you can confirm the quantity as well as sizes with the maker. Payment can be made easily through credit card, debit card, or Paypal. Delivery will usually take 2-4 weeks depending on the brand and your delivery address. Now you have learned how to design your own running shoes, why not take your free time to put your own innovation on a pair of shoes? Who knows you can become famous and sell it to retail customers one day?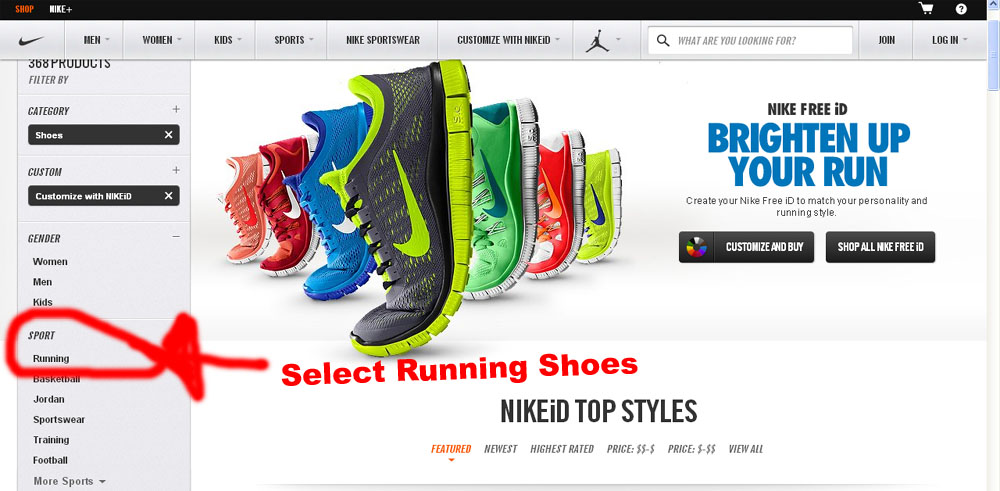 Design your own running shoes with Nike
Sport related shoes you don't want to miss during year end sales: customize your own basketball shoes, design your own skate shoes, and design your own tennis shoes.