The biggest fashion trend for 2014 is to wear a pair of customized New Balance shoes. A custom-made New Balance sneaker can be matched with an outrageous fascinator, a casual camo pants, or even a sexy red carpet dress. No matter what kind of occasions you are attending, you will have to customize your own New Balance shoes so that your look can stand out from the crowd. Plenty of online shoe stores allow you to design your own shoes but now New Balance official website has launched an online program where you can create your own New Balance sneakers. You are the designer, you select the style, colors, and materials and you are the customer too. What are you waiting for? Let's get your computer or smart phone ready and follow these juicy steps to make your own New Balance Sneakers now.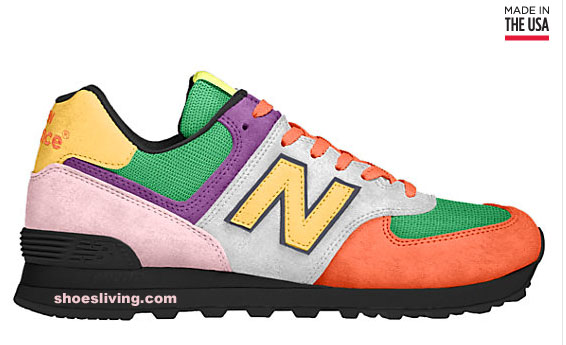 Step 1: Access to New Balance official website at newbalance.com and click on the "CUSTOM SHOES" button on top. Alternatively, you can click on the direct link to custom New Balance sneakers page here. Unlike custom Converse and Vans, New Balance offers only two styles for their customers to put on custom design, they are the New Balance 574 and New Balance 993. The price for a pair of custom New Balance 574 starts from $139.95 while the price for custom New Balance 993 starts from $174.95. Decide which one you would like to design and click on it to begin.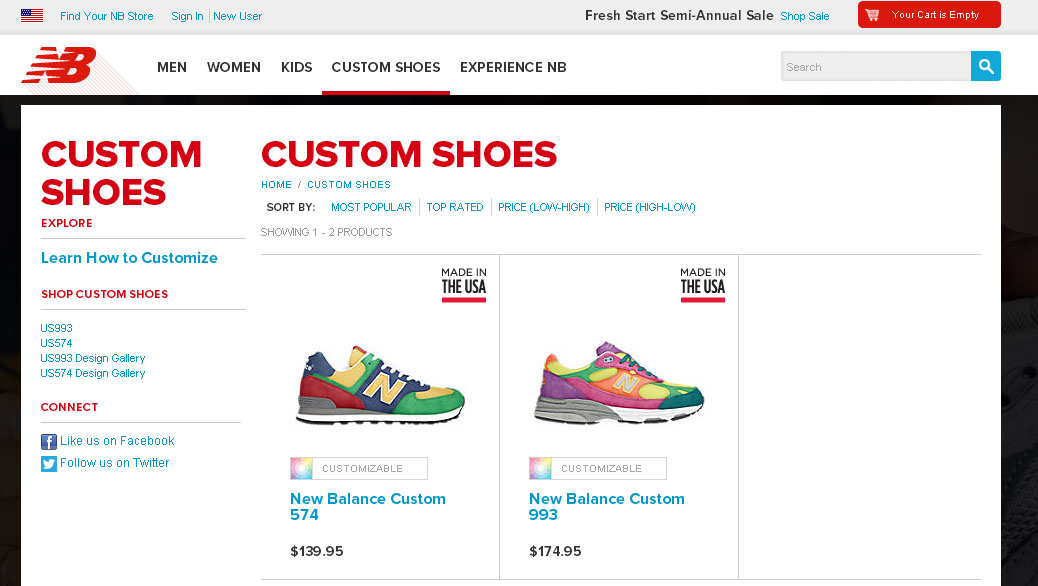 Step 2: The first thing you need to do is to select a base color to start customizing. Once you have decided the base color, you can customize the colors and textures on each part of the shoes. There are mainly 4 parts to customize which are base, upper, heel, and accents. Toe wrap, sole, vamp, saddle, ankle wrap, tongue label, heel wrap, heel tab, NB embroidery, lining, laces, and logo are those parts you can customize for New Balance Custom 574.
Step 3: Personalize your shoes. When you are finished with your design, the last step is to personalize your shoes. You are allowed to select up to 8 letters, numerals, or special characters per shoe. You can order your design with New Balance or save it to purchase later once you are done with your design. Custom New Balance shoes made by you online are produced in the U.S. and they will be labeled "Made in USA". It usually takes just 6-10 days and will be delivered to your doorstep.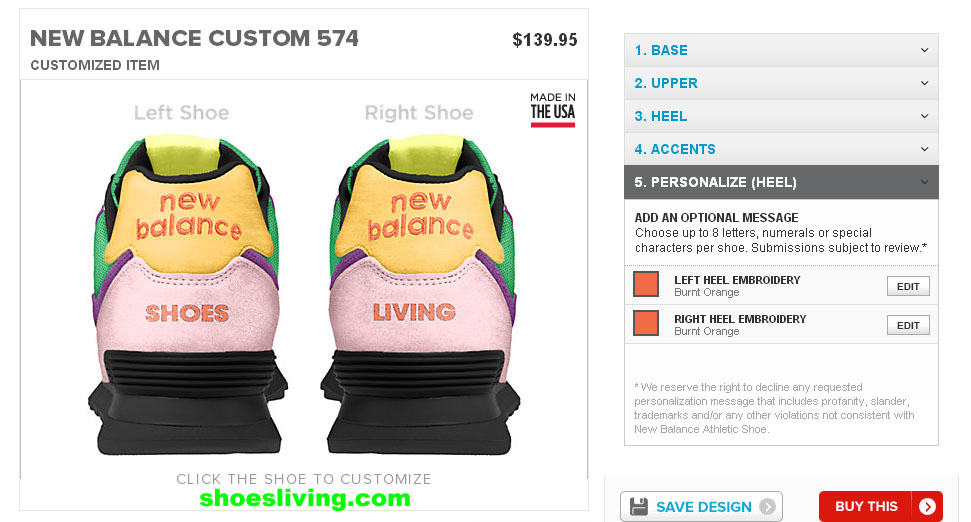 See other custom branded shoes: Customize your own Jordan shoes, Customize your own Basketball shoes, and Make your own Nike shoes.