The way to design your own Timberland shoes is a little bit different with how you design your own Converse. Most of the popular Converse sneakers are made of canvas. Only a few sneakers like the Chuck Taylor Premium Leather is made of genuine leather. As for Timberland, most of the well-liked shoe models are made of genuine leather and only a few shoe models are made of other non-leather material. This is because Timberland shoes are targeted towards people who intend to wear them for outdoor activities. Although Timberland is meant for outdoor, there are a group of Timberland supporters who love to wear them for casual purposes. It will be the right decision ever to customize your own Timberland shoes if you are one of the Timberland supporters who wear the shoes for any occasion. The step by step tutorial here would be the tastiest guide ever to lead you to get a unique Timberland you always dream of.
Step 1: The best place to make your own Timberland shoes is to go to Timberland's official website which can be access here. Alternatively, you can select Men -> Design Your Own, Women -> Design Your Own, or Kids -> Design Your Own. You will see Men, Women, and Kids selection at left panel once you land on Timberland website. To make one Timberland online, select the type of shoes you want. Men's 6" Boot, Varsity boot, boat shoe, Handsewn boat shoe, Hookset Oxford, Women's 14" Boot, Waterville 6" Boot, Nellie Boot, or Kid's Junior and Youth 6" Boot. Here we will click on a Men's custom 6-inch waterproof boot.
Step 2: At this page, you will see a color palette on your right. Click on every part of the shoe and select your desired color. Timberland online shoe customizing application allows you to customize colors for upper, tongue, heel, side panel, collar, hardware, stitching, midsole, and outsole. You are allowed to pick any type of shoe laces too.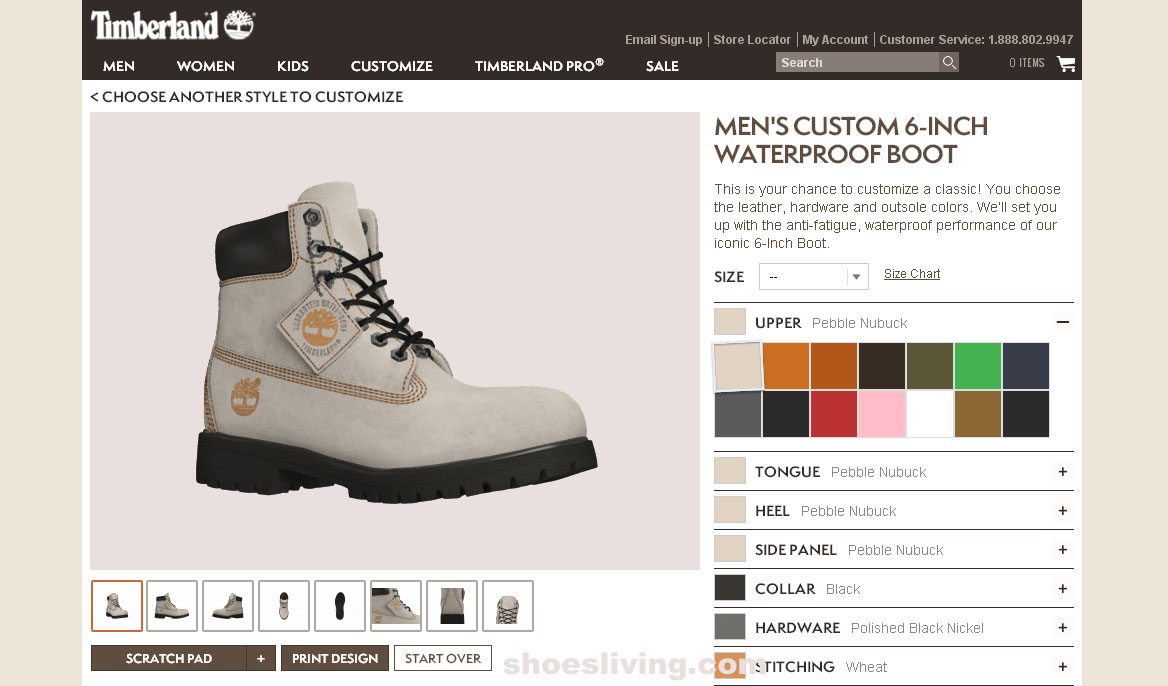 Step 3: Now select where you want to place the monogram of Timberland. You may decide to place it on the tongue, heel, hangtag, or any two of them. Instead, you can have all of them together on your shoes.
Step 4: Click on the sample shoe and drag to rotate it for a 360-degree view. You can always change your design or start over it if it is unsatisfied. On the other hand, you can share your unique design or add to gallery online. There is also an option to buy the shoe. Price is stated clearly on top of the "Add To Cart" button. Click on it and you will be redirected to the payment page. Key in the shipping address, shoe size, and make payment online and you will receive the shoe in less than two weeks time.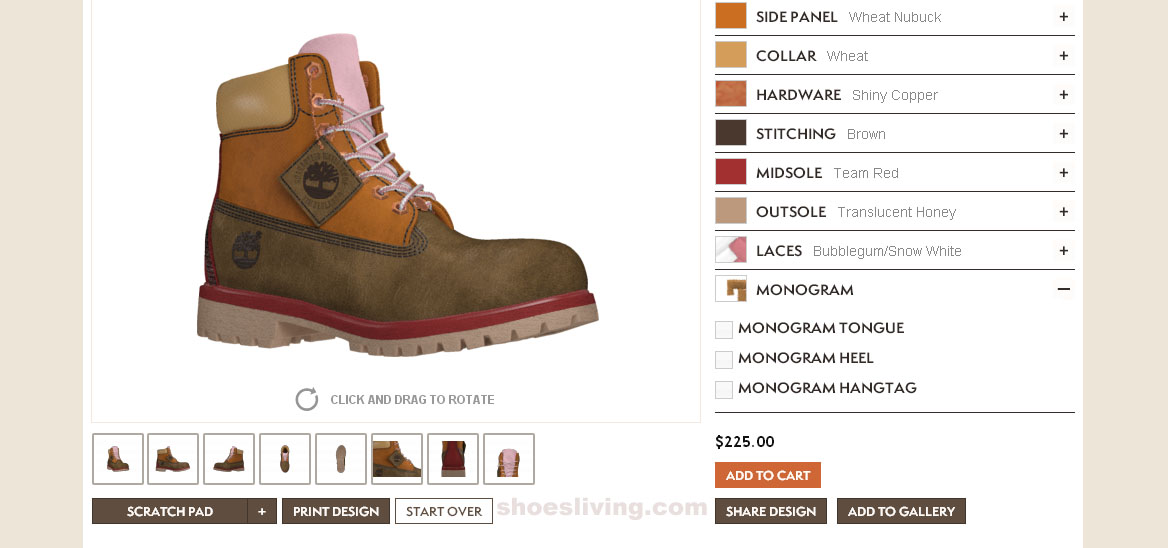 As mentioned above, designing your own Timberland is an interesting job. You may do it online for the coming Christmas or at any day you wish. You are welcome to send us your design using the contact us form if you would like to share it here.